Spokane Vehicle Shipping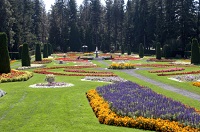 Spokane means "Children of the Sun" for good reason – the second-largest city in Washington is blessed with 260 days of sunshine a year. So if you're shipping a car to Spokane, perhaps it's a convertible. Or if you need car shipping from Spokane to virtually any U.S. destination, maybe it's a sport vehicle with plenty of room for the golf clubs, bikes and the other outdoor equipment so popular in these parts. Whatever your need for vehicle shipping, Nationwide Auto Transport is the affordable, dependable way for shipping cars.
Save by Shipping Your Car

If you still think you'll save by driving a car instead of hiring a car shipping company, we invite to "do the math." Start with a FREE Car Shipping Quote from Nationwide Auto Transport. Then compare that to the cost of driving yourself… the gas, food and hotel bills. Once you add it all up, it's easy to see how you can save money and time by letting professionals handle the vehicle shipping duties.
We Deliver Cars, Service and Satisfaction
Any vehicle shipper can promise a good price – but only the best deliver that plus superior customer service. At Nationwide Auto Transport, we pride ourselves on providing the kind of service that keeps customers coming back. Our many satisfied customers say it best – and our unsurpassed list of vehicle shipping services speaks for itself:
Door-to-door vehicle shipping service: We come directly to you, carefully load your car on a truck, and deliver it promptly to whatever destination you specify.
First-class treament: We believe that you and your car deserve every consideration.
Car carrier options: Enclosed car carrier or open vehicle shipper– the choice is yours.
A great price plus: A terrific price plus superior service adds up to an exceptional overall value for your car shipping dollar.
Shine in Spokane
Two hundred and sixty days of sunshine a year qualifies as a bright spot in anybody's book. In Spokane, the bright spots abound, from plentiful outdoor recreation to the finest of fine arts. Do you like to golf, bike, hike, and fish? Or does a symphony or opera sound more like you? Are you a microbrewery fan or does a winery tour better suit your taste? For variety and quality of lifestyle, it's hard to beat the sunny, sensational city of Spokane.
Get your FREE QUOTE for vehicle shipping to Spokane right here!
Providing Nationwide Auto Transport Services for the ALL Areas of Washington including: