Milwaukee Car Transporter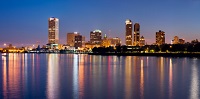 Say "Milwaukee" and people may think of beer… brats… LaVerne and Shirley. But Wisconsin's largest city is considerably more sophisticated and complex than those images suggest. Finding a sophisticated car shipping service for Milwaukee may also be more complex than you anticipate – unless you pass by the everyday car carriers and call on the one we believe should be Milwaukee's top choice: Nationwide Auto Transport.
From ultra-competitive car carrier pricing to sensational customer service, there are any number of reasons people speak of Nationwide Auto Transport so highly – and why they keep coming back time and again when they need a car transporter.
But don't take our word for it – judge for yourself with a free car shipping quote for Milwaukee. As you tally the total savings, be sure to factor in all you save by not driving your car yourself. When you rely on a professional car transporter you cut the cost of hotels, food and fuel that a road trip requires.
Of course, working with Nationwide Auto Transport, you not only save money – you also save hassles and heartache, as our loyal customers are quick to point out.
Nationwide is the Milwaukee car transporter that provides:
Door-to-door car shipping service: We pick up your vehicle and deliver it to the address you specify, on-time and in excellent condition.
Handling with kid-gloves: Your car is one of your biggest purchases, and we help protect that investment with professional care every step of the way.
The protection of enclosed car transport: No matter what the conditions, we've got you covered with your choice of enclosed car transporters or open car carriers.
Exceptional value: The smart choice is the one that combines a great price with unbeatable service – the perfect description for Nationwide Auto Transport.
A Great City by a Great Lake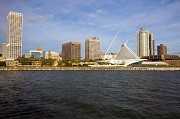 Milwaukee offers a surprising variety of lifestyles and diversions. Head down to the glittering lakefront, lined with luxury condos. Visit the world-class Milwaukee Art Museum, designed by the famed architect Calatrava. Take in the nightlife in the resurgent downtown, or head out to the neighborhoods for authentic Bavarian brewing and cooking. You'll want to try it all – and that means you'll want your car.
To make sure you have your vehicle when you need it, get your FREE Car Shipping Quote from a quality Milwaukee car transporter, Nationwide Auto Transport.
Providing Nationwide Auto Transport Services for the ALL Areas of Wisconsin including: