Wisconsin Auto Transport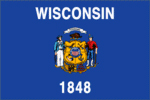 From the Calatrava-designed Milwaukee Art Museum to the best in old-time, backwoods campsites, Wisconsin offers incredible variety to visitors and residents alike. Of course, that also means that, if you're looking for car transport companies that serve Wisconsin, you'll want to be sure they can handle just about anything. When it comes to flexibility, service and value, Wisconsin car transportation services don't get any better than Nationwide Auto Transport.
Compare Car Transport Companies – Get a FREE Auto Transport Quote
We know that once you've compared auto transport companies you'll immediately see why Nationwide should be your car transport company of choice for Wisconsin. Find out for yourself: get a FREE Auto Transport Quote right now. We're confident you'll be pleased – especially after you factor in all the money you'll save on hotels, gas and food by NOT driving yourself.
But saving money is just the start – as you'll see in our customer testimonials, we're committed to complete customer satisfaction with our car transportation services, the kind you only see when service exceeds expectations. This determination to provide the finest Wisconsin auto transport includes:
Door-to-door pickup and delivery
Kid-glove treatment for your car
Your choice – enclosed auto transports or open car carriers
Exceptional value
At Nationwide Auto Transport, we're known for making car transport as easy for you as possible. That's right, with Nationwide Auto Transport you get truly personalized, door-to-door car transportation service. We come to you, pick up your vehicle, carefully load it on the truck and then baby it all the way to its ultimate destination. We're the no-hassle, no-worries, no-sweat choice among car transport companies, whether you're shipping a car to Wisconsin or need a top-quality option for car transportation services to virtually anywhere in the United States.
Wisconsin Highlights

With over 15,000 lakes, Wisconsin is justifiably famous as a year-round, outdoor playground. Camping. Hiking. Fishing. Swimming. Mountain biking. Snowmobiling. Of course, Wisconsin has much to offer for the great indoors, too. Theatre. Fine dining. World-class museums. Symphonies and operas. Comedy clubs and music festivals. Beer halls and brat fests.
Wisconsin is a big state – a driving state – so you'll want to be sure you have your car to take advantage of it all. So don't wait – get your FREE Auto Transport Quote for Wisconsin today!