Salt Lake City Auto Transport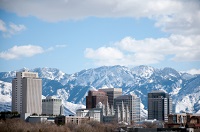 If you're checking out car shipping quotes and auto relocation services for Salt Lake City, you're not alone. This is one of the fastest growing metropolitan regions in the country. And there's one Salt Lake City auto transport company that's fast becoming the best choice for car shipping to the booming capital of Utah: Nationwide Auto Transport.
Car Shipping Quotes – Why You Need TWO Kinds
Before you decide on an auto transport company, there are two kinds of quotes you need to get. The first, of course, is a price quote. Your FREE Car Shipping Quote from Nationwide is just a click away. We've sure you'll be impressed with our pricing – but you may be even more impressed by the second kind of quotes: those from our satisfied customers.
We get such glowing customer reviews because we deliver more than just cars. We deliver on the promise of superior customer service. That includes door-to-door pickup and delivery. We come directly to you, load the car at your location, and deliver it to the precise address you specify. What could be easier?
Auto Relocation vs. Driving it Yourself
We realize that some people – even when presented with the best deal on auto transport – will still be tempted to think "Yeah, but I can drive the car there myself, and save a bundle." If that describes you, we hope you'll actually do the math before hitting the road. How much will you spend in gas? Food? Tolls? Hotels? And how much time will it take you? How much work will you miss? Add all that up, then compare it to the cost of professional car shipping with Nationwide Auto Transport, and you'll be able to see for yourself – shipping with us just makes sense.
Savings PLUS Service in Auto Transport
So here's the short story: whether your shipping a car to Salt Lake City, or need auto transport from Salt Lake to any state in the lower 48, using Nationwide Auto Transport for auto relocation can help you
Save money
Save time
Save trouble
Save wear and tear on your car
We give you the choice of enclosed or open car carriers, and we provide customer-pleasing door-to-door service. For auto transport you can rely on in every sense, call on Nationwide.
Sensational Salt Lake City
If your only image of Salt Lake City is of a towering tabernacle with one amazing choir inside, then you obviously haven't been here lately. As one of the fastest growing metro areas in the United States, Salt Lake boasts a thriving cultural and social scene, and enjoys an enviable location close to a wide selection of outdoor activities, including snowboarding, mountaineering, rafting, camping and much more.
You won't want to miss a minute before you get out and enjoy it all – so get going with a FREE Car Shipping Quote on the finest in Salt Lake City Auto Transport.
Providing Nationwide Auto Transport Services for the ALL Areas of Utah including: