South Dakota Car Shipping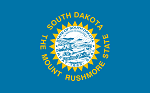 If you need to ship an car to South Dakota, you probably have images of Mt. Rushmore and buffalo herds dancing in your head. If you live in South Dakota and need to ship cars elsewhere, you already know that there's much more to this state than the movies ever show – and that includes much more territory to cover than you might imagine. Luckily, there's a car shipping company well-equipped to handle the vast stretches (and sometimes wicked weather) in this land that stretches from golden prairies to Black Hills: Nationwide Auto Transport.
Drive Yourself, or Have the Pros Ship Your Car?
If you ship cars all the time you know the many advantages of using a professional car shipping company. But if you have just one auto to ship, you may be saying, "I'll probably save a bundle if I just drive it myself." Before you start counting on that bundle of savings, we strongly encourage you to do the math.
Start with a

FREE Auto Transport Quote from Nationwide (we predict you'll be pleasantly surprised at just how affordable car shipping can be). Then compare that cost to the real total of what you'll spend driving yourself – the gas, food and hotel bills that go along with any road trip, plus the value of your time. Once you add it up it's easy to see: car shipping with Nationwide Auto Transport is the smart move.
Of course, we don't expect you to take our word for it – that's why we hope you'll look over the reviews from actual car shipping customers. Please take just a moment to read about the courteous service, prompt delivery and excellent overall value that we deliver along with every car.
When it comes to car shipping, in South Dakota or anywhere else, nothing could be easier than door-to-door service. At Nationwide Auto Transport, we pride ourselves on being "the door-to-door vehicle delivery specialists." All you to do is call us. We'll come to your location, carefully load your car on the auto transporter, and deliver it when promised to whatever destination you specify. We even give you a choice of enclosed auto transporters, for the ultimate in protection, or open auto transporters, for the most economical way to ship cars.
Sensational South Dakota
The home of the Badlands is actually a very good place to visit or live. South Dakota boasts very low population density, lower than average cost of living, and a low crime rate. There is an abundance of outdoor recreation, whether you fancy hunting, fishing, camping or even searching for dinosaurs! It is also a state rich in history, where you can walk in the footsteps of such historical figures as Crazy Horse or Laura Ingalls Wilder.
In short, South Dakota can be sensational – especially when you let us handle your car shipping needs for you. Start here with a FREE SHIPPING QUOTE from Nationwide Auto Transport – there's no better choice when you need to ship a car to South Dakota.