South Carolina Vehicle Shipping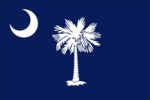 Once upon a time, South Carolina vehicle shipping really meant shipping, as when settlers sailed here in wooden ships to establish the first permanent English settlement in America. Today it means finding an auto transporter that knows it's way around the rolling hills of the upcountry as well as it does the 200 miles of tourist-attracting coastline. When it comes to finding an affordable, dependable auto transport service for South Carolina, there's no better choice than Nationwide Auto Transport.
The Affordable Auto Transporter
If you've looked at other auto transport services, you may still think that vehicle shipping has to be expensive. That's why you should get our FREE RATE QUOTE. You'll soon see that shipping your vehicle to South Carolina with Nationwide is the smart money move. We're confident our costs will even compare favorably to driving the car yourself, given the expense of gas, food and hotels for a road trip.
Cost, of course, is only one consideration in choosing an auto transport service – there's also the matter of that last word, service. How can you tell which auto transporter will really deliver on their promises? Find out what real customers think. Do they talk about polite drivers and prompt delivery? Careful handling of vehicles? Responsiveness to questions and special needs? You'll hear all that and more from our customers, because we're committed to total customer satisfaction. Maybe that's why we've earned a Better Business Bureau rating of A+. That's right, A plus.
Auto Transport Service Door-to-Door
Our commitment to total customer satisfaction in vehicle shipping means we're determined to make the whole process as easy as possible for you. We even provide door-to-door delivery, loading the vehicle on our transport at your location and then delivering it to virtually any address you want in the 48 continental United States.
So Much to "Sea" in South Carolina

It's easy to see why locals and tourists alike may think of this as paradise by the sea. There are nearly endless miles of warm Atlantic beaches and famous vacation spots like Myrtle Beach and Hilton Head. Inland you'll find natural beauty in bloom with magnolias, camelias, azaleas, dogwoods, roses and more. There's an abundance of fine golf and fine dining (not to mention simpler southern fare such as you'll find at the World's Grits Festival). You'll also find some of the most historic and charming towns in America.
No matter what you want to "sea" in South Carolina, you'll see a difference in vehicle shipping when you go with Nationwide Auto Transport. Start with a FREE VEHICLE SHIPPING QUOTE.
Providing Nationwide Auto Transport Services for the ALL Areas of South Carolina including: