Vehicle Shipping in Pennsylvania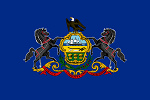 What's the key to finding dependable, affordable auto shippers in the Keystone state? Where can you locate competitive auto transport quotes and a complete commitment to customer satisfaction? Which are the auto transport companies serving Pennsylvania that have earned the highest rating from the BBB? You can get all your answers right here at Nationwide Auto Transport.
The Auto Shippers for Pennsylvania
If you listen to our many satisfied customers, you could get the impression that there's really no other vehicle shipping company to consider in Pennsylvania. After all, they go on and on about
Personalized attention in auto transport
Courteous drivers
Above-and-beyond-the-call service for any kind of vehicle shipping
Meticulous handling of vehicles, whether classic sports cars or everyday sedans
On-time delivery
Compare Auto Transport Quotes

If that sounds like the kind of company you'd like to deal with when shipping a vehicle, then we encourage you to compare us not just on service but also on price. Get a NO-OBLIGATION COST QUOTE and see for yourself how reasonable world-class vehicle shipping can be. Compare us to any of the other auto shippers serving Pittsburgh, Philadelphia and all points in between. You should even contrast our fee with what it would cost to drive that car your self (the cost of a road trip, with hotels, gas, meals and more, adds up more quickly than people expect). Any way you cut it, vehicle shipping with Nationwide Auto Transport is a very smart move.
Vehicle Shipping Should Always Be This Easy
Possibly more than anything, what gets us customers and keeps them coming back is our total dedication to making the auto transport process absolutely as easy as possible. That includes providing exceptional, and exceptionally simple, door-to-door delivery. All you need to do is give us a call and we'll take care of the rest. We come to your location, load your vehicle onto your choice of an open or enclosed car carrier and then take it to whatever address you specify in the lower 48 states.
Make a Few Penn Pals
Stroll an open air market in Philadelphia, or walk in the footsteps of America's founding fathers. Take in a Steelers game in Pittsburgh. See 19th century life still being lived out in Amish country. Watch the wheels of government turn in Harrisburg. All across the state you'll encounter incredible variety, and one consistent quality: fantastically friendly people. So why wait? Get your car and start exploring. Click here for your FREE AUTO SHIPPING QUOTE and enjoy the finest vehicle shipping in Pennsylvania (or anywhere else): Nationwide Auto Transport.
Providing Nationwide Auto Transport Services for the ALL Areas of Pennsylvania including: