Toledo Auto Transport

Halfway between New York and Chicago, Toledo stands out as a city of commerce. Located on the western edge of Lake Erie, Toledo grew as a trading center accessible by ship and rail. Known as the Glass City, Toledo is where Owens Corning, Libbey Glass and many others got their start. And with glass manufacturing came the manufacturing of windshields, auto parts and much more. Today, Toledo still has strong ties to the auto industry with two Jeep manufacturing plants in and around Toledo. And where there are cars, there's always Nationwide Auto Transport.
Glass City Car Movers
With their strong ties to the auto world, everyone in Toledo knows the high standards and low prices of Nationwide Auto Transport. To see how much you can save, whether you're moving a car in or out of Toledo, get a FREE auto transport quote live and online. When you hire Nationwide to do your move, you save all the time, trouble and expenses of doing the move yourself.
And if you're in the auto business, you can save even more. Whether you're shipping cars to or from Toledo Speedway or looking to transfer cars to or from an auto dealership, Nationwide has dealer transport services at the best possible rates. We can pick up and transport multiple vehicles from one location to another or arrange to pick up individual cars at different locations and bring them to your dealership, all at bulk rates.
Nationwide Auto Services provides professional car moving at bulk rates for many specialty clients. If you need help transporting cars to and from an auto auction, we offer auto auction shipping. For transferring fleets of cars, Nationwide offers fleet auto transport. We can facilitate dealer to dealer auto transport or delivery right to your customers with dealer to customer shipping service. All at low rates that reward commercial customers.
Car Movers that Keep Toledo Moving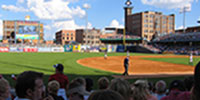 Toledo continues to be a hub of commerce, shipping and auto manufacture. That's why Toledo counts on Nationwide Auto Transport to get the job done. So come to Toledo and see the Mud Hens play, or play 18 at Inverness or visit the Glass Pavilion at the Toledo Museum of Art. And when you want to move a car to of from Toledo, see how much you can save with a FREE auto transport quote from Nationwide Auto Transport.
Providing Nationwide Auto Transport Services for the ALL Areas of Ohio including: