Car Transporter in Cleveland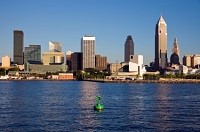 Just because this is home to the Rock 'n Roll Hall of Fame doesn't mean you actually have to be a guitar hero to get the star treatment for shipping a car to Cleveland. Just count on that band of pros that really rocks when it comes to auto shipping companies: Nationwide Auto Transport.
Shipping a Car Economically
You don't need the money of a Mick or Ringo to get the best car transporter in Cleveland. Check out our no-obligation RATE QUOTE and judge for yourself. See? It's surprisingly affordable, especially when you compare our costs to the rates at some auto shipping companies – or even to the expense of driving that car yourself (before you shout "Road trip!" be sure to tally up the cost of gas, food and hotels along the way).
See What Experts Say About Auto Shipping Companies
Of course, cost isn't the only key parameter for comparing auto movers – there's also the matter of service and customer satisfaction. One look at our customer reviews, and you'll see what a difference it makes when you get personal attention, polite, considerate service, careful handling of your vehicle and on-time delivery.
The Door-to-Door Car Transporter
Possibly the most pleasing service we offer is our door-to-door delivery. It's just as easy as it sounds. We come to your door, load the vehicle at your location and then deliver it promptly to virtually any address in the 48 continental United States. What more could you ask for?
Well, you could ask for a Rating from the Better Business Bureau. Once again, we're happy to oblige.
A Great City on a Great Lake
Maybe it's because Cleveland is on the shores of Lake Erie – in any case, today it boasts a new wave of attractions and activities. The city rocks not just at its famous museum but all around town, from amphitheaters to hole-in-the-wall clubs (not to mention a jazz joint ranked by Downbeat magazine as one of the top 100 in the world). More civilized fare can also be found at the many art and history museums, botanical gardens, a planetarium and historical sites. And sports fans can get their fill of pro baseball, football, basketball and more.
To find a car transporter in Cleveland offering great rates and great service get a no-obligation rate quote from Nationwide Auto Transport.
Providing Nationwide Auto Transport Services for the ALL Areas of Ohio including: