Vehicle Transport in Albany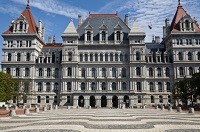 Here's a capital idea: if you need to move a car to or from New York's capital city, DON'T drive it yourself. Save time and money by hiring the professional, affordable auto transport service… the auto transport company that delivers real customer satisfaction along with cars… THE vehicle transport company in Albany: Nationwide Auto Transport.
Auto Transport Service, Service, SERVICE
When you're shipping a vehicle, cost is certainly a key consideration – but not the only one. After all, you're shipping one of your most valuable possessions, and you need to be confident that the auto transport company you select will treat both you and your car with the utmost respect and care. That's exactly what our customers say we do – and a big part of why we enjoy the highest possible rating from the Better Business Bureau.
We're determined to be the vehicle transport company known for complete customer satisfaction. That's why we provide: door-to-door pick up and delivery; a choice of enclosed or open car carriers; polite drivers; kid-glove handling of every vehicle, whether an exotic supercar or a family sedan; and a pledge of on-time delivery.
At Nationwide, we pride ourselves on providing extremely reasonable rates. You can judge for yourself with a free, online RATE QUOTE. Not only do our fees compare favorably with other car transport companies, but we also believe you'll find they'll save you money versus driving the car yourself (don't forget to add in the value of your time when tallying the many costs of a road trip).
America's Affordable Auto Transport Company
Surprising, all of that service doesn't mean we're all that expensive. In fact, as a no-obligation RATE QUOTE will demonstrate, we make first-class auto transport down right affordable. We're so proud of the value we deliver that we hope you'll compare us on cost and service to any other reputable auto transport company, or to the cost of driving that car yourself (and don't forget to add in the value of your own time when tallying up the many expenses of a road trip).
All About Albany
Four centuries of history and architecture are reason enough to visit Albany, but there's also a much more contemporary energy enlivening this city on the Hudson River. Take in a pop concert at the "Egg" performance center. Climb the newly renovated "Million Dollar Staircase" at the Capital Building. Sample the world of cuisine, from Indonesian to French, Southwestern to Sicilian. Go on an art adventure, from avant garde to folk painting. Albany has it all.
For the best vehicle transport value in Albany, get a FREE RATE QUOTE from Nationwide Auto Transport.
Providing Nationwide Auto Transport Services for the ALL Areas of New York including: