New Hampshire Vehicle Shipping Company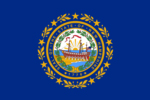 When you need to ship a car to the Granite State, there's one thing you shouldn't take for granted: that every vehicle shipping company is alike. Does a company give you the option of an enclosed car transport or open car carrier? Do they offer personalized service, with attention to your individual needs? Do their drivers have a reputation for being helpful and courteous? Do they have a good record of on-time delivery? Do they get excellent customer reviews, and the highest rating from the Better Business Bureau? One New Hampshire vehicle shipping company delivers all that and more: Nationwide Auto Transport.
Enclosed Car Transport, Open Car Carrier – You Choose

At Nationwide Auto Transport, we believe that our services should be tailored to fit your individual needs. That includes offering you choices, like the option of an enclosed car transport, to best protect valuable vehicles, or open car carriers, for maximum economy.
It's all part of our determination to provide complete customer satisfaction by giving you the utmost in customer service, such as door-to-door pick up and delivery. Instead of requiring you to bring your car to some out-of-the-way drop-off spot, we come directly to you, carefully load your vehicle on to the transport at your location (and under your watchful eyes), then delivery it promptly, and in excellent condition, to virtually any address you specify in the lower 48 continental United States. It's absolutely the easiest way ever to ship a car.
It Doesn't Have to Be Expensive to Ship a Car
You may be thinking, "Yeah, but isn't all that service awfully expensive?" In a word, no. See for yourself with a FREE VEHICLE SHIPPING QUOTE. Compare our costs to the rates quoted by any other vehicle shipping company. Compare them to the expense of driving that car yourself (and don't forget to add the value of your time to the bills for gas, food, tolls and hotels that you'll rack up on a road trip). Any way you look at it, we're confident you'll agree: Nationwide Auto Transport is THE smart move when you need to ship a car in New Hampshire (or anywhere else).
The New Hampshire Scene(ry)
Are you a mountain person? More of the ocean/beach vacation type? Are you a fan of deep forest hikes? Lazy drives through lovely, rolling hills and over quaint covered bridges? From the gorgeous White Mountains, to the white caps of the Atlantic Ocean, New Hampshire offers all variety of scenery and your choice of excitement or solitude.
To find the finest New Hampshire vehicle shipping company, simply rely on Nationwide Auto Transport. Start by getting a FREE QUOTE to ship a car.
Providing Nationwide Auto Transport Services for the ALL Areas of New Hampshire including: