Las Vegas Auto Transport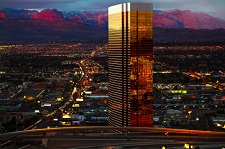 So, you're moving to Las Vegas. Or perhaps you're moving from Las Vegas. You're thinking "I can drive it myself." Well, yes, you can – but first think of the 37 million people who visit there annually. That's right, 37 million people, with the biggest group from car-loving California. Now doesn't a nice, professional vehicle transport company sound like a great idea? It'll sound even better once you've heard about the experts in automobile moving at Nationwide Auto Transport.
Expert Vehicle Transport
First things first: Nationwide makes vehicle transport very affordable. It's a terrific value, especially when you compare it to what you could spend on hotels, food and fuel, not to mention wear and tear if you were to drive your vehicle yourself. So why worry about fighting the traffic and crowds when Nationwide can handle all of your automobile moving needs?
Door-to-Door Auto Transport Service
Complete customer satisfaction is the key to our success, so we work hard to make car shipping easy and totally stress-free. The result? We keep our customers happy, and they keep coming back for the finest in personalized customer service.
Especially popular is our door-to-door service – that's right, automobile moving where you don't have to move a muscle. We come to you, carefully load your vehicle and take meticulous care of it at every turn, including our "kid gloves" delivery to exactly the address you specify. Las Vegas auto transport doesn't get any easier than this!
Come play in "The Meadows" – Las Vegas
Las Vegas means "the meadows" in Spanish, but this is one wide open field where all sorts of truly wild life grows. Gambling is its calling card – while only 5% of visitors say that they're coming to gamble, 87% actually do. In between playing poker, craps or slots there is a 24/7 selection of shows, restaurants, night clubs, bars, attractions from lion habitats to world-class art collections… and don't forget the wedding chapels, where you can have a drive-through "ceremony" for as little as $40 (Elvis impersonator extra).
You'll want to get out and see it all, so make sure your car is there when you're ready to roll. For the finest auto transport service to Las Vegas, get a free car shipping quote here!
Providing Nationwide Auto Transport Services for the ALL Areas of Nevada including: