Lansing Car Transport
Ever since R.E. Olds completed his first Oldsmobile here – a steam powered three-wheeler from the late 19th Century – Lansing has been famous for shipping cars to the world. Today a new name is earning a reputation in Lansing for professionalism in car transport for people just like you: Nationwide Auto Transport. Whether you want to ship a family car to Lansing, or need classic car transport from Lansing to virtually anywhere in the U.S., Nationwide lives up to its name.

FREE Quote on Quality Car Shipping
It's a simple fact: not all car shipping companies are created equal. You'll see that right away when you get your FREE Auto Transport Quote from Nationwide (and when you're calculating savings, don't forget to add up the money you won't have to spend on meals, gas and hotels if you don't drive your car yourself).
Price, of course, is only the beginning. What ultimately sets us apart from other car shipping companies that serve Lansing is summed up in one important word: service. We pride ourselves on going above and beyond expectations, to tailor our service to your needs. That's not simply our opinion – just listen to our customers, and hear in their own words why they give us so much repeat business.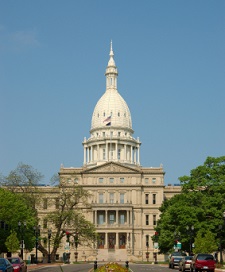 As our customer's will tell you, car transport doesn't get any easier than with our tailored-to-you, door-to-door service. All you need to do is tell us where you want us to pick up your car and we'll come directly to you, gingerly load it on your choice of an enclosed auto transporter or an open car carrier and then deliver it as promised, on time and in excellent condition, to any address you specify. We take care of all the details to give you a no-worries car shipping solution.
A Capital Idea
Lansing is the capital of Michigan, but there's more than government and automotives to drive the lifestyle here. Fine dining, art museums, the boutiques and galleries of the Old Town district all beckon, and East Lansing, with Michigan State as a main attraction, is only a few miles away.
Don't wait a minute more than you have to get your car and get out to see all Lansing has for you – get your FREE Auto Transport Quote for Lansing today!
Providing Nationwide Auto Transport Services for the ALL Areas of Michigan including: