Farmington Hills Vehicle Transport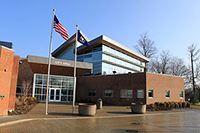 Farmington Hills may be the perfect Detroit suburb. Its quaint downtown reflects the peaceful ambiance of the place voted one of America's safest cities. As part of the greater Detroit area, it has access to all the sports and recreational activities of Detroit, yet is a quiet community in its own right. And since Detroit is home to the auto industry, Nationwide Auto Transport is ready to move you in or out of Farmington Hills.
Car Movers Where Cars Are King
Parked on the outskirts of Detroit, Farmington Hills is part of the car culture of the Great Detroit area. So if you need to move a car in or out of Farmington Hills, you can't do better than Nationwide Auto Transport for excellent service at the most reasonable price. Get a FREE vehicle transport quote from Nationwide to see how much you can save. Remember too that you'll be saving time, money and stress by using the car movers that Detroit counts on – Nationwide Auto Transport.
If you value your car, you'll want to keep it as safe as possible, which is why we offer enclosed vehicle transport. Farmington Hills is one of Michigan's safest communities. Why not move your car in our safety form of transport? Your car will have a completely enclosed trailer to keep it safe from the weather and the rigors of the road. Whatever way you choose, you'll get the highest standard in car movers with Nationwide Auto Transport.
Reliable Motor City Car Movers
Nationwide Auto Transport makes car moving as automated as an assembly line. Simply specify your pickup and drop off points and our professional car movers will come right to you. They'll carefully load your car, drive in to your specified location and unload it whenever and wherever you want. It couldn't be easier – or more worry-free. We're known for the care and customer service that make us the car movers Detroit relies on. Just read the glowing testimonials from our customers.
Farmington Hills Car Movers
This quiet community has so much to offer its citizens and visitors. So cruise through the renovated downtown along Grand River Avenue. Visit the world-renowned Holocaust Memorial Center. Or just relax in the beautiful Heritage Park. Whether you're making Farmington Hills your home or moving down the road, you can count on Nationwide Auto Transport to be the car movers that keep the Motor City moving.
Providing Nationwide Auto Transport Services for the ALL Areas of Michigan including: