Cambridge Vehicle Transport
What's the right choice when you need an auto mover to ship your vehicle to "Boston's Left Bank?" Of all the vehicle transporters who could handle your car, which one can you trust to handle it with care? When it comes to Cambridge vehicle transport, who can deliver affordability plus dependability? Nationwide Auto Transport.
The Auto Mover That Makes The Grade
As home to both Harvard and MIT, Cambridge is a place where virtually everyone and everything seems to come from the top of the class. Nationwide Auto Transport is no different. We have a top notch rating from the Better Business Bureau, and consistently receive sterling customer reviews.
The Intelligent Choice in Car Transporters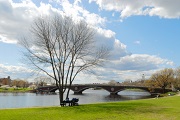 The reason for our success is simple: our combination of excellent rates and superior service makes us the smart move to Cambridge (or anywhere else in the lower 48 United States). Judge for yourself with a FREE RATE QUOTE. Compare our costs to those of any other reputable auto mover, or even to the cost of driving the car yourself. No matter how you look at it, we're confident you'll agree that Nationwide is the best overall value in Cambridge vehicle transport.
That value includes industry-leading services including: the simplicity of door-to-door delivery; the assurance of courteous service from our staff and drivers; the choice between open and enclosed car carriers; and the confidence that your car will be delivered on time and in excellent condition.
What's Your Cambridge I.Q.?
Cambridge, just across the Charles River from Boston, is full of unexpected surprises. Famous Harvard Square is actually a triangle. Cambridge was the first seat of government in the original Massachusetts Bay Colony (and has the historical buildings to prove it). It boasts the world's largest number of bookstores per capita. And thanks to attracting the best and brightest from around the world, it is also an incredibly diverse multicultural experience.
For best-in-class Cambridge vehicle transport, get your FREE RATE QUOTE.
Providing Nationwide Auto Transport Services for the ALL Areas of Massachusetts including: