Braintree Vehicle Transport

Just south of Boston, Braintree Massachusetts is the classic New England town. Founded in 1640, Braintree was the home of John Adams, John Quincy Adams and John Hancock. Famous resident Thomas Watson helped Alexander Graham Bell invent the telephone and founded the nearby Fore River Shipyards. Nationwide Auto Transport salutes these innovators by bringing its own innovative service to Braintree.
New England Car Transportation
For any car transportation need, to or from Braintree, Nationwide Auto Transport provides excellent service at the most affordable rates. See for yourself with a FREE vehicle transport quote and see how affordable car transportation can be. With Nationwide Auto Transport, you'll also save all the expenses of moving a car yourself, including gas, meals on the road, even overnight lodging on a long move. Plus, our online Car Shipping Planning Guide gives you all the details to make your move with Nationwide as smooth as possible.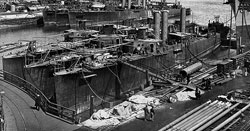 And Nationwide can handle more than just car transportation. With our specialty transport service, we can move your truck, heavy equipment, boat or motorcycle. To get a free, no obligation specialty moving quote, call our Vehicle Moving Specialists at (800) 689-6498. These experienced pros can answer all questions, put together a quote and arrange for pickup and delivery in one quick phone call. We're all about service, whatever type of vehicle you need moved. Read our customer reviews and you'll see how worry-free car transportation can be.
Fast Braintree Car Transportation
Sometimes the most important part of moving a vehicle is getting it to its destination FAST. That's when you need our express car shipping service. With this premium service, your vehicle will be picked up within 48 hours of placing your order. You can choose from an open auto transport truck or an enclosed auto transporter, for extra protection on the road. To get the quickest service, call our Car Transportation Specialists at (800) 689-6498.
Revolutionary Car Transportation in Braintree
If you're fascinated by Revolutionary War history, Braintree is for you. And if you want revolutionary service in car transportation at a most modest price, Nationwide Auto Transport is ready to provide it – from anywhere on the South Shore of Boston to anywhere in the U.S. So see where our nation's founders lived and worked to make men free. And for a FREE vehicle transport quote, check out Nationwide Auto Transport – the experts in car transportation from sea to shining sea.
Providing Nationwide Auto Transport Services for the ALL Areas of Massachusetts including: