Maryland Car Shipping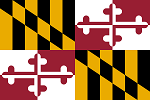 Shipping a car to Maryland, one of the great boating destinations of the Mid-Atlantic, can be as smooth as sailing on Chesapeake Bay – if you go with the right auto transport service. Nationwide Auto Transport is committed to being that "right choice," and works hard to provide an unbeatable combination of responsive customer service and reasonable car shipping rates.
Shipping a Car Doesn't Have to be Expensive
If you've already looked at some of our "competition," you may be under the impression that auto transport services are automatically expensive. Not so. We pride ourselves on offering car shipping rates that are "pleasantly surprising." We invite you to compare them to the rates of any other car shipping company, or even to the cost of driving the car yourself (the gas, food and lodging bills can really add up on a road trip). Your FREE QUOTE from Nationwide is just a click away.
Compare Auto Transportation Services
Cost is just one important factor in comparing your car shipping options for Maryland. You should also look for:
Convenience in shipping a car: Do they provide the door-to-door pick up and delivery service? Nationwide does.
Courtesy: See if they have a reputation for respecting customers and cars.
Personalization: Will they listen to and meet your needs?
Promptness: What's a company's record for on-time delivery?
Kid-glove handling of vehicles: Will they take meticulous care of your car, whether it's a family van or an exotic roadster?
Choice in car carriers: Can you select either an enclosed carrier, to better protect an expensive vehicle, or an open transport, to provide better economy?
Nationwide Auto Transport provides the best of all the above – which is why we get such wonderful a customer reviews and enjoy a great Better Business Bureau rating.
Very Merry Maryland


With over 4000 miles of shoreline, having a good time in Maryland is a "shore thing." Hit the white, sandy beach at Ocean City. Frolic in Baltimore's famously rejuvenated Inner Harbor. Take in a Navy game at the Academy in Annapolis. Hike the Allegheny Mountains. Tour a Civil War site. Maryland is the very land that has it all. Get your NO-OBLIGATION MARYLAND CAR SHIPPING QUOTE now!
Providing Nationwide Auto Transport Services for the ALL Areas of Maryland including: