Vehicle Transport Company in Louisville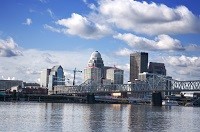 No matter how you pronounce the name of Kentucky's largest city – Louie-ville, Louahvul or just plain Luhvul – hiring the right vehicle transport company to get your car there can make a pronounced difference in how you and your car are treated. Nationwide Auto Transport is committed to providing you the utmost in customer satisfaction and we invite you to compare us to any of the other auto shipping companies serving Louisville.
Compare Auto Shipping Companies
There are three main factors for comparing vehicle transport companies: cost, customer-satisfaction and quality. Get a FREE ONLINE RATE QUOTE and see for yourself how affordable top-notch auto shipping can be. Contrast our rates with those from any other reputable auto mover. Calculate the difference between our reasonable pricing to handle everything for you and the cost of driving the car yourself (those gas, restaurant and hotel bills really add up on a road trip). Any way you look at it, Nationwide Auto Transport is an exceptional value.
Compare companies on customer satisfaction. See what real customers say. Do they talk about polite drivers and attentive service? Do they cite a company's professionalism, and the care with which they handle cars, whether classic autos or everyday sedans? Do they mention on-time delivery? Door-to-door service? You'll get all that an more from Nationwide.
Finally, before you hire any vehicle transport company in Louisville (or anywhere else). Be sure to check their rating with the Better Business Bureau. Can they match the kind of quality service that earns an A+ rating?
Enclosed Car Shipping Available
Our commitment to complete customer satisfaction in auto shipping includes giving you a choice of car carriers. You can choose an enclosed auto transporter, for the ultimate in protection, or an open car carrier, for greater economy. And whether you choose enclosed or open car shipping you will get the same level of service that earns us so many repeat vehicle transport customers.
You're Always a Winner in Louisville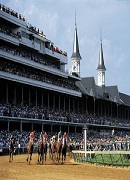 This is home to perhaps the most famous Winner's Circle in the world – the one for the Kentucky Derby. But Churchill downs isn't the only world-class attraction in Lousiville. There are over 120 parks, most laid out by the famed creator of New York's Central Park, Frederick Law Olmsted. There's an annual Festival of New American Plays at the well-regarded Actor's Theater. The Speed Art Museum showcases works from antiquities to avant garde, present-day pieces. And the Jefferson Memorial Forest – America's largest urban forest – offers 30 miles of peaceful hiking trails within the city limits.
Get your FREE QUOTE for enclosed car shipping or an open vehicle transport, and get going to Lousiville today!
Providing Nationwide Auto Transport Services for the ALL Areas of Kentucky including: