Car Shipping in Kansas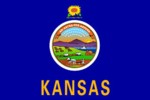 Once upon a time, getting to Kansas meant a long, hard journey by covered wagon on the Oregon or Santa Fe trails. It's considerably easier these days, whether you're moving your family or moving cars; no car shipping company makes it easier than Nationwide Auto Transport.
Auto Transport Quotes – the Two Kinds you Need
Whether you want to ship a car to or from Wichita, Topeka, Kansas City or anywhere in the Sunflower State, there are two kinds of quotes you'll need before deciding on a car shipping company. The first is a FREE Auto Transport Price Quote. We encourage you to compare our price with the rates from any other car shipping company. You should also compare that cost to the expense of driving the car yourself – the amount you'd spend on food, fuel, tolls and hotels. Either comparison will show you why so many people choose Nationwide Auto Transport for moving cars in Kansas.
The second kind of quote you'll want is the kind you get from the real experts – auto transport customers. Do they mention courteous service? Prompt delivery? A choice of enclosed or open auto transporters? Did they feel that they got the best deal for their car-shipping dollar? As you'll see when you read our customer reviews, Nationwide Auto Transport is known for providing affordable, dependable and always polite service.
Door-to-Door Car Delivery Service


As part of our commitment to complete customer satisfaction, we also feature what may be the easiest method anywhere for shipping cars: door-to-door service. You don't need to bring your vehicle to us; we'll come to you, carefully load your car on the transport and then deliver it to the exact address you specify. When it comes to shipping cars, across Kansas or across the country, it doesn't get any easier than this.
Say "Hi" to High-Flying Kansas
In the popular imagination, Kansas typically conjures up images of Dorothy and Toto or endless fields of waving wheat. But did you know that it is also a center of aviation, and for over a century has been a hub of aviation innovation, thanks to companies like Bombadier Learjet, Beechcraft and Cessna. Today you can tour the Kansas Aviation Museum, or take in other more "down to earth" attractions such as Old West history tours or art walks through bustling gallery districts. There's nothing plain about this Great Plains state!
Need car shipping in Kansas? Nationwide Auto Transport is the affordable, dependable way to go. Call 800-689-6498 or request a free online Auto Transport Quote