Des Moines Car Shipping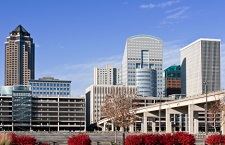 Do you need to move a car to Des Moines? You could drive it yourself (and pay for gas, hotels, meals and more). Or you could hire the auto transport company that stands out from the crowd, just like the gold-domed Iowa State Capital building stands out on the Des Moines skyline: Nationwide Auto Transport, the affordable, dependable auto transport service.
Compare Us to Any Auto Transport Company
Price and customer care, customer care and price. Those are the two most important points to consider in selecting an auto transport service. But how can you tell who offers the best combination of both? It pays to compare auto transport companies.
Get the Best Quotes on Auto Transport Services
Start by comparing costs – get FREE RATE QUOTES online. You'll discover that professional car shipping can be quite affordable.
With costs in hand, compare the other most important type of quotes, the quotes from real car-shipping customers. Does your auto transport service deliver complete customer satisfaction? Does that include courteous drivers? Timely vehicle delivery? Careful handling of vehicles? A choice of enclosed or open car carriers? If you're dealing with Nationwide Auto Transport, you get all that and more. It's no wonder we enjoy such a high rate of repeat business.
Car Shipping Made Extra Easy
Customers keep coming to Nationwide Auto Transport because we keep going directly to them. Our popular door-to-door auto transport service makes the whole process as easy as can be. We come to your location, load your car on our carrier with kid gloves, and then deliver the vehicle, on time and in great shape, to whatever destination you specify (within the lower 48 United States). Whether you need to ship a car to or from Des Moines, this is the easy way to go.
Life is Looking Good in Des Moines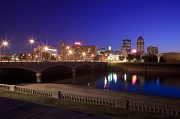 Jack Kerouac, in his classic novel "On the Road," claimed that the best looking girls live in Des Moines. Of course, Jack isn't the only one to see the beauty in this vibrant Midwest metropolitan area of some half-million people. It's rated in the top 10 for places to live (Kiplingers) and to do business (Forbes). You can enjoy live theater, major concerts, and cuisine of every kind in over 850 restaurants. Take in a top-notch art museum, play blackjack at a casino, visit the zoo – and don't forget to come for what many consider to be the best state fair anywhere (have you ever seen a life-size cow carved from butter?).
There's so much to do in Des Moines – and you definitely need your car to enjoy it all. So don't wait, get your ONLINE CAR SHIPPING QUOTE from the experts at Nationwide Auto Transport.
Providing Nationwide Auto Transport Services for the ALL Areas of Iowa including: