Auto Transport in Iowa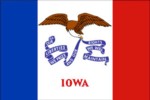 "Iowa, Iowa. Best state in the land. Corn on every hand." The old song has it right, this is the land where both the people and the corn stand tall, but there's so much more to the Hawkeye State than that. Along with rolling hills and endless fields, there's boating, fishing, hunting, camping, AAA baseball and A+ universities. You'll definitely need a car to take it all in – and when you're looking for car shipping companies that serve Iowa, look to the affordable auto transport experts at Nationwide Auto Transport.
There are two key points to compare when you're trying to decide on the right car shipping company: price and service. Compare Nationwide Auto Transport to any other vehicle moving company and you'll see that we provide an unbeatable combination of affordability and exceptional customer care.
Get your FREE Vehicle Moving Quote
To see just how affordable top-notch auto transport can be, get one of our FREE Vehicle Moving Quote online. Not only will it stack up favorably with rates from any of our "competition," it'll also look like a major bargain once compared to the cost of driving yourself (the hotel, gas and food bills from a road trip can really add up).
Auto Transport Customers Rave about Nationwide

Seasoned car shipping customers know, however, that it takes more than a great price to deliver a great auto transport experience. It also takes terrific customer service. Does a company have polite drivers? Do they have a reputation for timely vehicle delivery? Is there a choice of enclosed or open car carriers? Do their customers consider them to be a good value overall? Judging from the comments of our customers, Nationwide Auto Transport delivers on all the above.
We even provide door-to-door auto transport – all you do is call. We'll come to your location, load your vehicle carefully on our carrier and then promptly deliver it to whatever address you specify (within the continental United States). There's no easier way to move a car from point A to point B, in or out of Iowa.
Iowa is Hot Because Iowa is Cool
Even a publication as non-Midwestern as the New York Times declares that Iowa is "a cool place to visit" (maybe that's because the Big Apple and Iowa's capital both have hip neighborhoods called the East Village). You can find Big Ten college ball and big time, Fortune 500 business. It's home to the real Field of Dreams, where you can actually play ball on the field from the movie. It's also the quadrennial host to America's favorite slugfest – the first Presidential caucuses.
You've got to see Iowa for yourself – and for that, you've got to have your car. So get moving, and get a FREE Vehicle Moving Quote from the experts at Nationwide Auto Transport.