Chicago Auto Transport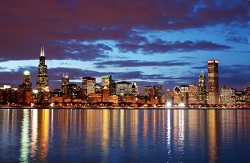 The first thing you'll notice about "The Second City" is the awe-inspiring skyline rising like an architect's fantasy next to beautiful Lake Michigan. The next thing you'll notice is the traffic – Chicago is rated in the Top 10 cities for traffic jams. Expressways. Toll ways. Narrow side streets in 19th Century neighborhoods. Eight lane roads in the endlessly expanding suburbs. Nearly 10 million people in the metro area (and over 45 million visitors annually). Do you really want to drive yourself when Nationwide Auto Transport can ship your car to Chicago for you?
True Value in Vehicle Transport
Whether you're shipping a car to the Windy City or need to transport a vehicle from Chicago to virtually any destination in the U.S., Nationwide Auto Transport is the smart choice for great car transport service at a terrific price. See for yourself with a free vehicle transport quote also be sure to factor in all the money you'll save on hotels, food and lodging by not making that big road trip).
Perhaps you're looking for enclosed auto transport, to avoid the nasty Chicago winters. Or possibly you have a classic car that needs kid-glove treatment. Whatever your car transport needs, you can rely on Nationwide to provide the utmost in care and customer service. We pride ourselves on our high level of customer satisfaction – and we know that's why so many customers keep coming back.
Worry-free, Door-to-Door Car Transport Service
We believe that auto transport should be auto-matic. That is, once you hire Nationwide to transport your vehicle, everything else happens automatically. You don't need to worry about a thing. Simply tell us where to pickup and drop off your vehicle and our professional auto movers come to you, meticulously load the vehicle on the truck and then deliver it to the specified destination, when and where promised. With Nationwide, Chicago auto transport is just that easy.
The Second (to None) City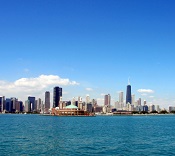 We encourage you to get your FREE Vehicle Transport Quote now so you'll have your car as soon as possible to take advantage of all Chicago has to offer.
You'll find an amazingly diverse urban buffet including over 200 theaters and at least as many art galleries; 7300 restaurants of every type and taste; 28 miles of lakefront, 36 annual parades and countless festivals and local events in over 100 distinct and distinctive neighborhoods; plus world-class music, museums, sports teams and much, much more.
Providing Nationwide Auto Transport Services for the ALL Areas of Illinois including: