Georgia Auto Transport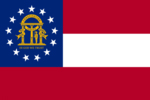 If you want to make sure you don't have a rotten experience with vehicle transport to The Peach State – including motorcycle transport – make sure you compare a variety of auto transport quotes. We, of course, recommend that you start with a FREE RATE QUOTE from the vehicle shipping experts at Nationwide Auto Transport.
Motorcycle Transport, Auto Transport – Whatever Vehicle Transport You Need
We have the equipment and expertise to ship any kind of vehicle, whether you require motorcycle transport, auto shipping, boat moving – the works. And we specialize in making auto moving easier for you. We even provide door-to-door delivery, loading the vehicle at your location and then delivering it promptly to your desired destination virtually anywhere in the 48 continental United States. Auto transport to Georgia (or anywhere else) simply doesn't get any easier than this!
Get Both Kinds of Auto Transport Quotes

Before you decide on a car transportation service, it's wise to get two kinds of auto transport quotes: a rate quote and real quotes from customers. Do they mention personalized attention? Courteous service, from the office staff to the drivers? Meticulous handling of valuable automobiles and motorcycles? Enclosed car carriers for maximum protection (or open car carriers for maximum economy)?
You'll hear all that and more when you listen to our customers. You'll also quickly see why our total dedication to customer satisfaction earns us "an A" from consumers and consumer protection groups alike.
Georgia – Lucky 13th?
Founded in 1734 as the last of the original 13 British colonies in America, Georgia has a rich and stormy history. Originally home to the Creek and Cherokee Nations, site of intense Civil War battles and nexus of the "New South," with gleaming Atlanta as its center, Georgia today is a vibrant mix of tradition and innovation. It also boasts a stunningly diverse landscape, from the Blue Ridge Mountains to the sub-tropical shores of the Gulf of Mexico.
To enjoy all that Georgia has to offer you will definitely need your car – so get going and get a FREE auto transport quote from Nationwide Auto Transport for the best in car and motorcyle transport.
Providing Nationwide Auto Transport Services for the ALL Areas of Georgia including: