Car Shipping Quotes

With over 300 miles of navigable inland canals, from the Atlantic Ocean to the Everglades, it's no wonder Fort Lauderdale is called the Venice of America. From mangrove swamps to multi-million dollar oceanfront mansions, Fort Lauderdale has sights to see and boats are a big part of the lifestyle. So why drive? With Nationwide Auto Transport, you can have your car shipped to or from Fort Lauderdale without having to navigate the move yourself. For a free Car Shipping Quotes, just click and and fill out the form.
Sunshine State Car Movers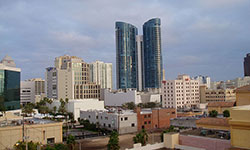 Whether you're moving your car to Fort Lauderdale or shipping it somewhere else, you'll find your best value with Nationwide Auto Transport. For great service at a terrific price, you can't beat Nationwide Auto Transport. You can even get a free vehicle transport quote to see how much you can save. Remember when you ship with Nationwide Auto Transport, you spend less time driving, which gives you more time to explore attractions like the IGFA Fishing Hall of Fame & Museum or the Fort Lauderdale Antique Car Museum.
You certainly don't have to live on Millionaire's Row to afford our top-of-the-line enclosed auto transport. This is car shipping done right. Your car is shipped in an enclosed trailer to protect it from the sand and salt air. When you choose Nationwide Auto Transport as your car movers, you can be assured of care and customer service that our customers rave about. See for yourself by reading their reviews.
Car Movers For When Your Ship Comes In
With its tropical climate, endless waterways and marinas, Fort Lauderdale is a preferred destination for snowbirds and boaters. Why not have your car waiting for you when you arrive? With Nationwide Auto Transport, car shipping can be automatic. Simply tell us where to pick up and drop off your vehicle and our professional auto movers will be there, ready to carefully load the vehicle on the truck and deliver it to your specified destination anywhere in the U.S., right when and where promised. For car movers, you can count on, Nationwide Auto Transport is the answer.
Explore the Venice of America
Fort Lauderdale offers so many unique attractions, from airboats that skim the Everglades to the nation's largest outdoor/indoor flea market to the luxurious beachfront promenade. So don't spend your time driving. Ship your car and you'll have more time to enjoy this tropical paradise. Use the car movers that can make car shipping as pleasant as this tropical haven. Plan your move south with a FREE Vehicle Transport Quote today.
Providing Nationwide Auto Transport Services for the ALL Areas of Florida including: