Florida Auto Transport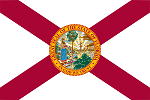 Florida is known for its sun, sand, and relaxation. Duped the sunshine state, Florida is the top destination in the United States for retirees searching for a place to enjoy their golden years. Known as snowbirds, these retirees general make the trip to and from the sunshine state twice a year. These snowbirds usually ship their vehicles to Florida in the spring and from Florida in the fall. Nationwide Auto Transport is an expert in shipping cars to and from FL. Car Transport is our business, and we are good at it. Whether you are a retiree or moving to or from Florida, Nationwide has the expertise to handle all your car shipping needs.
Florida is the fourth most populous state in America with just over 18 million residents. The state has over 1,473 miles of interstate. The state has 4 major interstates running through its borders, including: I10, I95, I75, and I4. With this kind of congestion, just driving across town can get complicated. Nationwide is very familiar and comfortable with Florida's highways. When it comes time to move in or out of Florida, leave the car moving to the professionals.
Car Shipping Made – Simple
In a world where everything seems to be getting more and more complicated, Nationwide Auto Transport has chosen to go in a different direction. Simplify, Simplify, Simplify. We have taken the hassle out of car shipping. Our process is really simple to follow.
Get a fast free quote: This can be done by filling out our free online car shipping quote or by simply calling us at 800-689-6498.
Book the order: simple fill out the online order form with the attached link in each quote or just give us a call and a Car Transport Specialist will take care of it for you.
Vehicle is picked up, transported in a safe reliable manner and…
Delivered to your door (door-to-door transport)
Nationwide Auto Transport strives very hard to maintain the highest levels of customer service throughout this entire process. We are happy to answer any questions during any point of the car transport process. Let us be your auto transport company of choice when you are relocating in or around Florida.
About Florida

Florida has been inhabited for thousands of years by many different peoples and cultures. Some include: the Ais, the Apalachee, and the Tocobago tribes. Florida gets its current name from a Spanish conquistador named Juan Ponce de Leon. Juan named Florida in 1513. In more modern years, Florida became known for its large cotton plantations. In the mid 1800's, Florida had only 140,000 people of whom 61,000 where slaves. During this period, there were less than 1000 people of color who were considered free. Today, Florida has moved from a slave state with fewer than 140,000 people to a vacation and relaxation state with more than 18 million people.