Car Transport in Hartford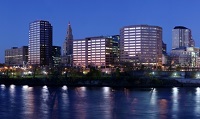 How hard can it be to transport a car to Hartford, Connecticut? You just get in the car and go, no? Well, not unless you want to spend a lot more time and money than you might think (all of those bills for gas, tolls, meals and hotels add up quickly – not to mention the value of your time). So instead of getting behind the wheel, get smart: ship your auto with the affordable, dependable car transport professionals at Nationwide Auto Transport.
Transport a Car and Save
Can you actually SAVE when you ship an auto rather than driving it yourself? Every situation is different, so get a NO-OBLIGATION RATE QUOTE and judge for yourself. We're confident that you'll like what you see (especially if you compare our rates to those from any other reputable car shipping company).
Ship Your Auto the Easy Way
Of course, any car transport company can give you a low quote – but what really comes with it? Will you get responsive, personal service? Courteous, helpful drivers? Careful handling of your valuable vehicle? Delivery when promised?
As you can tell from our customer reviews you'll get all that and more with Nationwide Auto Transport. We're dedicated to providing complete customer satisfaction – that's why we also provide the ultimate in easy auto shipping: door-to-door pick up and delivery. We come directly to your location, load the car on your choice of open or enclosed car carriers, and then deliver it promptly to virtually any address you specify within the lower 48 United States. What could be simpler?
You'll also enjoy the reassurance of our excellent rating from the Better Business Bureau.
Discover the Heart of Hartford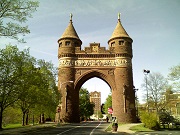 Hartford is within an easy drive of many of America's most famous attractions – but there's really no need to leave town to have a world-class experience. From Division I and classic Ivy League college sports, to Broadway tryouts and historic hangouts, Hartford offers a surprisingly diverse buffet of cultural, historical, sporting and entertainment options.
If you're looking for the best value on car transport in Hartford, get a FREE RATE QUOTE from Nationwide Auto Transport.
Providing Nationwide Auto Transport Services for the ALL Areas of Connecticut including: