Vehicle Transport in Colorado Springs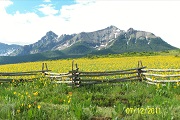 We have two words for those seeking auto transport quotes for Colorado Springs: good idea. After all, this beautiful town may be next to the Garden of the Gods, but you can still have a devil of a time driving a car here yourself. High winds can whip the vast prairie to the east. Mountains of snow can fall on the Rockies to the west. Luckily, whether you're looking to move the family van or need a classic car transporter, there's one company that really knows what it takes to ship a car to Colorado Springs: Nationwide Auto Transport.
Auto Transport Quotes – Why You Need Two Kinds
As anyone who's hired a vehicle transport company knows, there are two kinds of quotes you should get before signing on the dotted line. The first, of course, is a price quote. We make that easy with our FREE ONLINE Auto Transport Quote feature, the fastest way to discover just how affordable top-notch vehicle transport can be.
The second kind comes from the real experts in vehicle transport – the customers. Did they get personalized attention? Was the service prompt and courteous? Did they get a good value overall? Once you read what our many satisfied customers have to say we're sure you'll agree: for the best combination of low cost and high customer satisfaction in vehicle transport – to Colorado Springs or anywhere else – no one beats Nationwide Auto Transport.
Classic Car Transporter, First Class Treatment
Of course, the gold standard in car shipping is classic car transport. After all, if a company can move a cherry '67 Chevelle or a newly restored Willys, you know it provides the kind of kid-glove care you'd want for any car. That includes giving you your choice of auto transport services, deluxe enclosed car carriers for premium protection, or the standard open car carriers, for maximum economy.
We know that some intrepid souls, even when presented with an excellent option for vehicle transport, will still think about driving the car themselves. If that describes you, please, please, please add up the real cost of a road trip before you go. Get your auto transport quotes, then compare them to the cost of hotels, gas, food, tolls – see what we mean? The smart money knows that vehicle transport in the way to go.
Colorado at its Peak

With famous Pikes Peak as a backdrop, and the U.S. Air Force Academy as a neighbor, it's no wonder that Colorado Springs inspires high expectations. It is the perfect combination of beauty and bustle, a place of big opportunities in high-tech companies, but with a small town feel, complete with quaint historic districts.
Do you need vehicle transport in Colorado Springs? Then get the best – start with a FREE Auto Transport Quote from Nationwide Auto Transport.
Providing Nationwide Auto Transport Services for the ALL Areas of Colorado including: