Scottsdale Car Transport

From Old Town Scottsdale up to Pinnacle Peak, from luxurious shopping to the simple pleasure of hiking, Scottsdale is the place to come for the finest Arizona has to offer. And whether you are coming here to live, or already live here and are moving elsewhere, there's no better way to ship your vehicle to or from Scottsdale than with the pros at Nationwide Auto Transport.
Trust the Vehicle Shipping Experts at Nationwide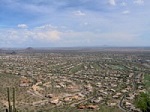 Get a free auto transport quote here – and be sure to compare car transport quotes for Scottsdale. We're confident you'll see why so many consider Nationwide to be the best value when you need to ship a vehicle. You'll save money to be sure – especially when you tally up the cost of food, fuel and hotels required to drive the car yourself. Of course, you'll also save heartache and headaches, because our consummate professionals take care of everything for you. It's that attention to detail, and our commitment to customer satisfaction, which consistently earns us so much repeat business.
Car Transport: Customer Satisfaction Is What We Really Deliver

The team at Nationwide Auto Transport knows that to deliver truly superior customer satisfaction we have to exceed expectations. That's why we offer the best door-to-door car transport services available. Except for dialing the phone, you barely lift a finger. We come directly to your location, pick up your vehicle, load it on the truck with the utmost care and deliver it exactly where you specify, promptly as promised.
Warm Up to Scottsdale
The sun shines in Scottsdale year round, so it's almost always perfect weather to get out for a drive. Visit one of the many upscale shopping areas. Take in a local art gallery. Throw your clubs in the trunk and head for one of the world-glass golf courses that appear like emerald oases in the Sonoran Desert. You won't have to wait a minute extra to get out and enjoy Scottsdale when you trust the vehicle shipping experts at Nationwide to ship your vehicle.
Whether you're shipping to or from Scottsdale, be sure you get the best auto transport quote.
Providing Nationwide Auto Transport Services for the ALL Areas of Arizona including: