The Crossroads of Car Transport

What puts Flagstaff, Arizona at the crossroads of the Southwest? Two bits of geography: the Grand Canyon and the historic Route 66. The Grand Canyon is a short drive away and the famous Route 66 runs right through it. No wonder Flagstaff is a favorite for motorists from around the country. And if you're moving a vehicle to or from Flagstaff, you'll want to rely on Nationwide Auto Transport. We know the way to get you where you're going.
Flagstaff Automobile Transport
The landscape around Flagstaff is stark and barren with desert, buttes, mesas and long, barren roads. Why not trust your next auto move to Nationwide Auto Transport? This economical, reliable service means you won't have to chance a breakdown along some endless tract of road. When you rely on Nationwide Auto Transport, you'll get a FREE auto transport quote so you can see how economical moving with Nationwide can be. And with Nationwide, moving your car will be a stress-free, scorpion-free, rattlesnake-free experience.
Car Transport Across the Wild West
If you want to protect your car from blowing sand and grit, you can choose our protective enclosed auto transport service. There's no better way to protect your vehicle from the unrelenting sun or the harsh effects of the wind. Your precious cargo will be loaded in an enclosed trailer – safe from the elements for its entire journey. So it will arrive in the same pristine condition as when you shipped it. We pride ourselves on providing customer satisfaction. That's why so many customers keep coming back. Just check our customer reviews.
Nationwide Auto Transport tames the Wild West for you and makes every move easy and practically automatic. Just tell us where to pickup and drop off your vehicle. Our professional auto transporters will come to your door, carefully load and secure your vehicle and deliver it to your destination, on budget and on time. With Nationwide, there are no contracts and no cancellations fees. If we don't move it, you don't pay. It's that simple.
Red Rock Car Transport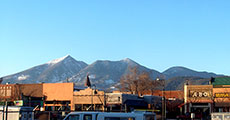 When you come to Flagstaff, you'll experience the West like never before. So stop by the the famous Museum Club, when Willy Nelson and Hank Williams have played. Pow-wow with Native Americans during the Zuni and Navajo Festivals of Arts and Culture. Or just enjoy a bowlful of red at the Route 66 Regional Chili Cookoff in June. And when you're ready to make your move, use Nationwide Auto Transport. Get your FREE auto tranport quote now.
Providing Nationwide Auto Transport Services for the ALL Areas of Arizona including: