Nationwide Auto Transport Services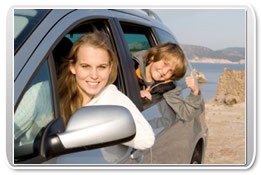 The vehicle and car transport services offered by Nationwide Auto Transport are available to the lower 48 states. California to Maine, North Dakota to Texas - we can help you get your cars, trucks, motorcycles, boats and heavy equipment to where it needs to go. Friendly and knowledgeable Car Transport Specialists are standing by to assist you - 800-689-6498.
Cross country auto shipping can sometimes be difficult to orchestrate, but the Car Shipping Specialists at Nationwide Auto Transport have it down to a science. We can help you make shipping a car cross country easier than you thought would be. Once you select Nationwide Auto Transport as your car carrier, we'll work with you to arrange pick-up and delivery dates as well as making sure the originating and destination addresses are correct. You may want to check out our Auto Transport Tips section for some helpful bits of information that will help making your nationwide auto transport smoother.
When researching and deciding which auto transport company, it might help your decision to know that Nationwide Auto Transport offers competitive rates that are all-inclusive without hidden fees. All of our drivers are fully insured and Nationwide Auto Transport is fully licensed and bonded. You can expect friendly, courteous assistance throughout the process, and we pride ourselves on our ability to offer trustworthy and dependable service to our customers. So when it comes time for you to hire an auto transport company, know that our Car Transport Specialists are standing by ready to help you arrange your nationwide auto transport. Call today - 800-689-6498, or fill out our free, no obligation, online car shipping quote.
Providing Nationwide Auto Transport Services for the Following Areas:
Open Car Transport

Open vehicle shipping is the lowest price available in automobile transportation.

Enclosed Car Transport

Enclosed Car Transport

provides the ultimate protection

for your vehicle during shipping.

Express Car Transport

With Express Vehicle Shipping Services there is a 48 hour

pick up window.

Specialty Moves

Heavy Haul Transportation - Oversized vehicles or

equipment & boat transport.