Dependable Auto Transport for Sentimental Cars
When Nationwide Auto Transport began, our focus was to offer quality, dependable auto transport services to anyone who many need it. Whether you have 1 car or 50, we want to help you with your car shipping needs. One particular service we've been asked to offer, on occasion is shipping a car that has sentimental value to someone. These are the cars that may or may not have any monetary value, but the wealth of memories the car holds is worth more than anything to the owner.
Reasons for Moving a Car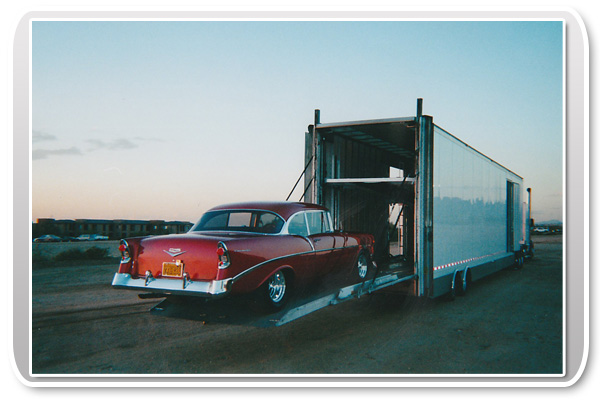 Why would someone want to use an auto transport service for a silly, sentimental car you ask? There are numerous reasons. In particular, someone may have just 'inherited' the car from a grandfather, mother etc. and the car is located states away. Rather than arranging to get to the car, do any needed maintenance and then driving it back, customers have realized it's much easier to arrange for a car shipping company, like Nationwide Auto Transport, to safely deliver the car to its new home.
Another scenario would be that even though the car holds lots of sentimental value, it may not run - at all, yet needs to be moved for one reason or another. Maybe it's being restored and needs help getting to the paint shop, or maybe it's moving to a storage lot. Whatever the reason, Nationwide Auto Transport can find the perfect car carrier to take the car where it needs to go.
One great thing about working with Nationwide Auto Transport, which you may not find with the other companies, is that we treat every car as if it were worth millions. So it doesn't matter if your car has a shiny, polished finish without a blemish anywhere or your car is sporting a little more rust and primer than you care to acknowledge - we'll respect your property as if it were our own and deliver your car in the same condition we picked it up in. It doesn't matter if you're shipping across the nation or across town, call our Car Specialists - 800-689-6498, to arrange your auto transport; or fill out our online form for a free quote.
Open Car Transport

Open vehicle shipping is the lowest price available in automobile transportation.

Enclosed Car Transport

Enclosed Car Transport

provides the ultimate protection

for your vehicle during shipping.

Express Car Transport

With Express Vehicle Shipping Services there is a 48 hour

pick up window.

Specialty Moves

Heavy Haul Transportation - Oversized vehicles or

equipment & boat transport.