There are a few different types of exotic cars that are more commonly known. For instance, most people have heard of the Lamborghini, Bentley, Bugatti and Ferrari, and although not many people own them, there are fortunate people who do. Another type of exotic and rare car would be concept cars created by auto manufacturers that are often only displayed at auto shows and show room floors.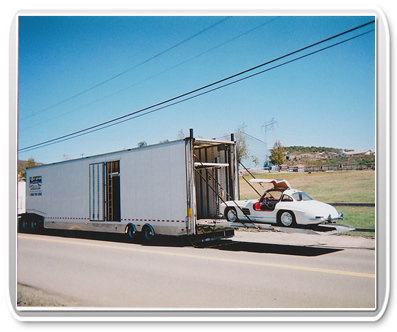 Nationwide Auto Transport understands that not everyone is able to own an exotic or rare car of their own. However, for those who do own them, we want you to know there is a 1st class, five star auto shipping service available for you. So whether you're moving a fleet of exotic cars like your Ferraris and Bentlys to a new mansion in Malibu or your team of engineers has just completed the design and manufacturing of a award winning concept car that's ready to go to show - Nationwide Auto Transport can get your cars there safely and quickly.
Most often enclosed car transport is the best way to handle exotic vehicle transport. By shipping your car within an enclosed car transporter, your car is protected from the elements that Mother Nature can dish out. When your exotic, rare or concept car is safely enclosed in one of our vehicle transport trailers it will not be rained on, hit by stray rocks, scratched or sand blasted, but instead will arrive clean and untouched at its destined location within a timely manner. Nationwide's Auto Shipping Specialists are standing by to take your call and answer your questions - 800-689-6498. You can choose to begin the car transport process online by requesting a free, no obligation auto shipping quote.
Open Car Transport

Open vehicle shipping is the lowest price available in automobile transportation.

Enclosed Car Transport

Enclosed Car Transport

provides the ultimate protection

for your vehicle during shipping.

Express Car Transport

With Express Vehicle Shipping Services there is a 48 hour

pick up window.

Specialty Moves

Heavy Haul Transportation - Oversized vehicles or

equipment & boat transport.
Nationwide Auto Transport specializes in Enclosed Auto Shipping Services. Our enclosed car transporters are professionals that realize the value of your cherished possession, your exotic car. We have shipped vehicles for professional athletes and famous stars. We also have provided vehicle transport for automobiles on their way to the annual SEMA Show. Exotic cars have a high monetary and sentimental value, which makes choosing the best car transport company essential. Nationwide Auto Transport has Vehicle Transport Specialists waiting to help you begin this journey and feel secure in your choice to use our auto shipping company. We will be happy to answer all of your questions about the vehicle transport process, 800-689-6498.