Car Transport Services: Four Auto Transport Options
Open Car Transport

Open vehicle shipping is the lowest price available in automobile transportation.

Enclosed Car Transport

Enclosed Car Transport

provides the ultimate protection

for your vehicle during shipping.

Express Car Transport

With Express Vehicle Shipping Services there is a 48 hour

pick up window.

Specialty Moves

Heavy Haul Transportation - Oversized vehicles or

equipment & boat transport.
Select from Nationwide Auto Transport's four types of car transport services to meet your individual needs. Our vehicle transport options are designed to meet the expectations of each customer. Our vehicle transport services range from open door-to-door service, to the ultimate in speed and protection, with enclosed car transporters. Our auto transport options enable you to ship any type of vehicle, whether it's your classic car, exotic car, motorcycle or boat.
We realize that each person searching for car transport services is looking for personalized and reliable auto transport at reasonable prices. Our car transporters are fully insured professionals. We work with each of our customers to make sure that they are kept updated on the progress of the shipment. At Nationwide Auto Transport, the customer is always our priority. Our Vehicle Transport Specialists are available to answer any questions and help you choose which of our four types of services suites your needs. You can request a free, Car Shipping Quote online or contact one of our auto transport agents at 800-689-6498.
Which Vehicle Transport Service Works Best for You?
Regardless of which one of our services you select, you will receive quality car transport. The open car transport services provide you with the quickest and least expensive type of vehicle transport. Enclosed auto transport services offer you the safest type of car transport. Express vehicle transport offers a 48 hour pick up window for those customers who absolutely must have their vehicle as soon as possible.
We also offer auto transport services for specialty moving. This service allows you to move oversized vehicles and equipment, which also includes boats. Heavy haul transportation services are intended to help customers transport items that have more specific requirements with ease.
Nationwide Auto Transport's Car Transport Process
We work with our clients to determine which of our services fulfill their requests and stays within their budget. Our pricing is determined by which type of auto transport service is selected, delivery pick-up and destination locations, type of vehicle, and time frame. Our rates are all inclusive; we have no hidden or additional fees. All of our car shipping quotes are priced to have your vehicle picked up in a timely manner. Once all of this transportation information is determined, we select the appropriate car transporter.
We collect no up-front deposits and do not require you to sign a contract that states your deposit is non-refundable. If we don't ship your car, you don't pay. We do not collect any money until we have a car transporter lined up to ship your car on the specified dates. Then, the driver will contact you to discuss any further details. At Nationwide, we are always available to answer your questions during this entire vehicle transport process to make it as simple as possible. Our goal is to make sure that our customers are fully satisfied and continue to serve you in the future.
Our auto transport company embraces that our customers are at the center of our business. Nationwide works to offer car transport services that will meet all of our customers' needs. We listen to our clients feedback to determine if any changes need to be made to our vehicle transport options, car transport process, or auto transport company' s website. Please contact us with any comments that we can use to better our car transport company. We value our clients' opinions; please e-mail your comments or suggestions.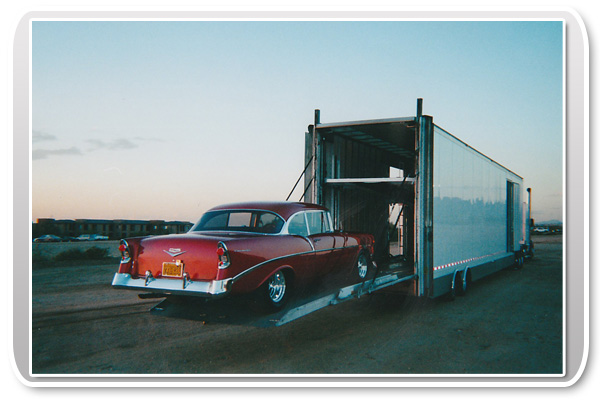 Car arrived in good shape
and on time.
The driver did a great job.
Thanks to everyone.
Mark H. Chicago, IL
Thank you for choosing Nationwide to ship your car, truck, SUV, motorcycle, boat, or oversized equipment. If you are uncertain about which of our car transport services works best for you or would like to talk to an Auto Transport Agent, call us at 800-689-6498. We also offer an easy, online, no obligation Car Shipping Quote.