Russo & Steele Auctions - For the Car Collector Lifestyle
"For Enthusiasts, By Enthusiasts" is the phrase that sums up the Russo & Steele approach to classic car auctions. Founder Drew Alcazar wanted his auctions to give buyers and sellers the opportunity to experience the cars on a personal level. That's why they innovated with their Auction in the Round concept, where buyers are right on the floor with the cars. And their technique has led to some amazing sales.
Record-breaking Sales
Some of Russo & Steele Auctions record-breaking sales include:
At Scottsdale 2011 - a 1970 Plymouth Hemi Cuda Convertible sold for $1,705,000
At Scottsdale 2012 - a 1965 Shelby 427 Cobra CSX3127 Street 427 Prototype sold for $1,100,000
At Monterey 2012 - a 1965 Ferrari 400 Coupe Superamerica sold for $1,100,000
Nationwide's Nominee for Most Notable Recent Sale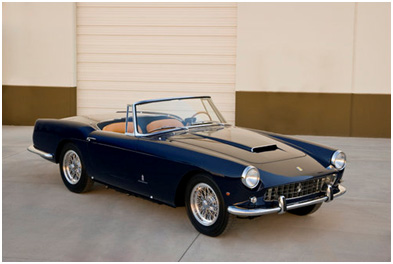 At Scottsdale 2010 - a 1960 Ferrari 250 GT Pininfarina Series II Cabriolet sold for $797,500. A fairly rare model - only 212 were produced.
The Events
Russo and Steele specialize in creating an intimate, interactive environment with buyers and sellers. They offer events focused on select automobiles: American Muscle, European Sports, Hot Rods and Customs. They hold two major auctions each year: A Scottsdale, AZ auction in January and a Monterrey, CA auction in August.
The Company
Founded in 2001 by Drew and Justine Alcazar, Russo and Steele quickly positioned itself at the "For Enthusiasts - By Enthusiasts" auction house. The founders and their staff actively participate in Concours d'Elegance shows, road rallies, auctions, vintage racing and other collector car events to keep them at the center of collector car world. Russo & Steele is based in Phoenix, AZ.
Nationwide Auto Transport By Enthusiasts
At Nationwide Auto Transport, we know how much care and commitment car enthusiasts lavish on their vehicles. That's why we lavish attention on every detail of every auto transport assignment. Just read what our satisfied customers say about our commitment to service. Because customers have all kinds of needs, we offer specialized service such as: Express Shipping, which gets your shipment loaded within 48 hours of placing your order, along with Enclosed Auto Transport, to ship your vehicle in an enclosed trailer, safe from the elements. If you ship a lot of cars, you can even get a Frequent Shipper Discount. How much can you save with Nationwide Auto Transport? Get a FREE Car Shipping Quote by calling or clicking! We look forward to serving your auto transport requirements whenever the need arises. And we'll do it - with enthusiasm!