RM Auctions
RM Auctions grew out of a single-car restoration shop started by Rob Meyers in 1976 to the international, multi-faceted company it is today. By 1991, RM Classic Cars was restoring and selling so many cars, that partners Rob Meyers, Mike Fairbairn and Dan Warrener started RM Auctions to service its' collectors of fine classic automobiles.
Record-breaking Sales
RM Auctions holds five of the top ten all-time records for most expensive automobiles sold at auction. These sales include:
a 1957 Ferrari 250 Testa Rossa ($12,402,500 Maranello 2009)
a 1961 Ferrari 250 GT SWB California Spyder ($10,894,400, Maranello 2008)
a 1937 Mercedes-Benz 540 K Spezial Roadster ($9,680,000, Monterey 2011
a 1962 Ferrari 330 TRI/LM Testa Rossa ($9,418,750, Maranello 2007)
a 1937 Mercedes-Benz 540 Special Roadster ($8,253,217, London 2007)
Nationwide's Nominee for Best Choice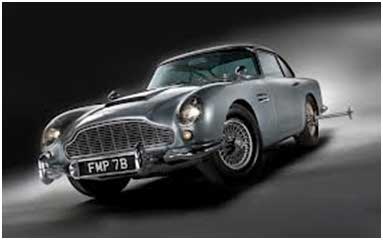 In 2010, the world famous 1964 Aston Martin DB5 James Bond movie car, as driven by Sean Connery in Goldfinger and Thunderball sold for $4,608,500.
The Events
Each year, RM Auctions holds catalogue events around the world on a scheduled timetable. Scheduled auctions include: Phoenix, AZ; Amelia Island, FL; The Grimaldi Forum of Monaco; Cernobbio, Italy; Plymouth, MI; Monterey, CA; Hershey, PA and London. Additionally, RM Auctions has sold many single-owner auctions and specialty auctions like the recording-breaking Ferrari auction in 2007 at Ferrari's Maranello factory.
The Company
RM Auctions is headquartered in Ontario, Canada with offices in Auburn, IN; Fort Lauderdale, FL; Culver City, CA; London, England and Hamburg, Germany. In 2010, RM Auctions expanded with Auctions America by RM, and acquired the 235-acre Auburn Auction Park in Auburn, IN. Their RM Auto Restoration business is still a leader in the industry. RM also has expanded its services to include private treaty sales, estate planning and financial services.
Nationwide Auto Transport for Industry-Leading Service
At Nationwide Auto Transport, we're inspired by the quality of RM Auctions. Read our customer reviews and you'll see that Nationwide Auto Transport is committed to that same high standard of care at the most affordable rate. So get a FREE Auto Transport Quote on your next move. For the classic car collector, we provide Enclosed Auto Transport, which keeps your car safe from the elements on the road… and prying eyes! With our Express Auto Transport, you car can be picked up anywhere in the country within 48 hours of placing your order. When you need the best service at the most reasonable rates, trust Nationwide Auto Transport, for all your car shipping needs.