Barrett-Jackson The World's Greatest Collector Car Auctions™
Barrett-Jackson Collector Car Auction, based in Scottsdale, AZ is one of the nation's oldest and largest auto auctioneers. Founded by Russ & Nellie Jackson and Tom Barrett, their team launched their first classic car auction in 1971. Among the items at this first auction was Barrett's Mercedes 770 Phaeton, which sold for $153,000.
Record-breaking Sales
Some of Barrett-Jackson's record-breaking sales include:
At the 2007 Scottsdale auction, a 1966 Shelby Cobra 427 "Super Snake" (lot #1301), originally owned by Carroll Shelby, went for $5,000,000.
At the 2006 Scottsdale auction, the1950 General Motors Furturliner #11 "Parade of Progress tour bus (lot #1307), originally built to showcase cutting-edge GM technology, sold for $4,000,000.
At the 2005 Scottsdale auction, a 1954 Oldsmobile F-88 General Motors concept car (lot #992) sold for $3,000,000.
Nationwide's Nominee For Most Notable Recent Sale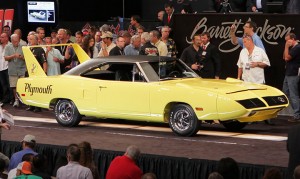 At the 2012 Scottsdale auction, a 1970 Plymouth Hemi Superbird Two-Door Hardtop (lot #670), in bright yellow with a black top and iconic Superbird spoiler, sold for $297,000.
At the 2013 Palm Beach auction, a 1934 Ford 3 Window coupe (lot #3001), in Ford Grabber Blue with Mustang Bullet wheels with black spokes and a polished aluminum radiator, sold for charity at $40,000.
The Events
Barrett-Jackson produces their auctions in 4 main locations: Scottsdale AZ, Palm Beach FL, Las Vegas NV and Orange County, CA. Billed as collector car auctions, the multi-day events also auction trucks, motorcycles, airplanes, engines, boats and memorabilia. The Saturday auctions frequently have such record-shattering sales, they're commonly known as "Shatterday." For a complete schedule of Barrett-Jackson's upcoming auctions, just click here. The auctions are also televised on the Speed Channel.
The Company
Today, Barrett-Jackson continues a legacy of innovation under Chairman/CEO Craig Jackson and President Steve Davis. Continuing the legacy of innovation he learned under his parents Russ and Nellie, Craig has expanded the auctions from the original Scottsdale auction to 4 auctions, has arranged for the auctions to be televised on Speed Channel and turned the multi-day experience into a unique entertainment lifestyle event. Under the leadership of Craig, Steve and team, attendance at the most recent 2012 Scottsdale auction grew 10% with more than 68,000 in attendance and generated more than $23 million in sales.
Getting There & Back with Nationwide Auto Transport
The level of professionalism and customer service that Barrett-Jackson brings to auto auctions is inspiring. Here at Nationwide Auto Transport, we strive to bring the same commitment to quality and customer service to every move we make. Some of our services include Enclosed Auto Transport to give your car the ultimate in protection from the road; Express Auto Transport for fast pickup and delivery, along with discounts for multiple autos shipped at once from the same pick-up location. So if you're headed to or from Scottsdale, Palm Beach, Las Vegas or Orange County, you'll want to get a FREE auto transport quote and see why customers rave about our excellent services at affordable rates.