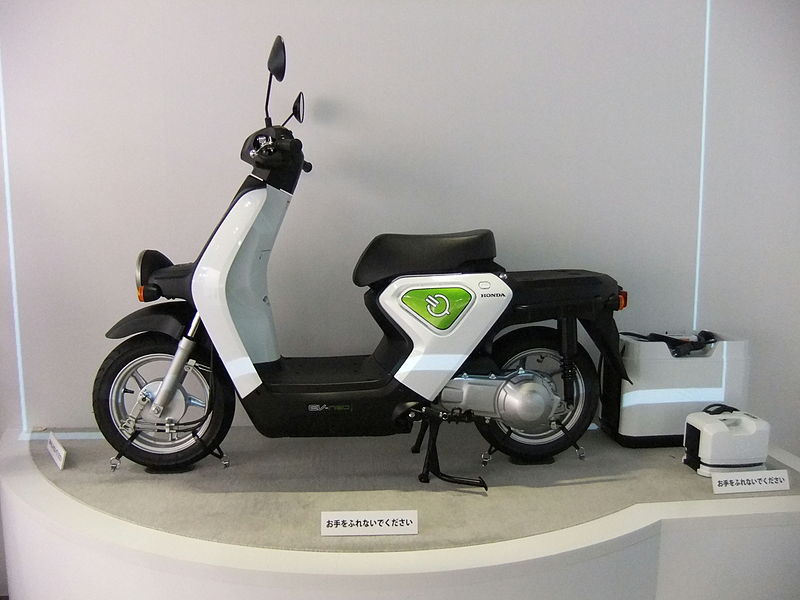 Lately I've been on the topic of electric vehicles–which is a good one, for we're looking at the future in the making right now!
I talked about the Nissan Leaf the other day, which is currently available in parts of the US. Today we're going to take a peek at the Honda EV-neo electric scooter, which is currently available… in Japan! And, really, Honda is leasing–not selling–this bike to a limited number of business users, so you can't even buy it.
But, if you could somehow buy one and bring it over to the States, it would be a really cool thing to have, as you can see from the picture. Apparently Honda is promoting this as the ultimate city delivery bike. You know, for pizza, soba, express mail, and whatnot. The business owner would keep it plugged in when it's not in use–no need to fuel up!–and then, off the driver would go, on a scooter that's fairly powerful, virtually silent, and producing zero emissions.
It's too bad that it's not available "over here" yet, but, who knows, maybe soon. If you get one in the future, that's when you'll need the best motorcycle transport service in the United States from Nationwide Auto Transport! Why? The EV-neo can travel only 20 miles or so on one charge. That's pretty amazing for such a compact motorcycle, but we will be happy to help you get it across the United States!
To learn more about how we can help you transport any motorcycle quickly and perfectly, please contact one of our Motorcycle Transport Specialists!
Chip Shipt
The Nationwide Auto Transport Blog Team
Photo by Mj-bird.
Related posts: