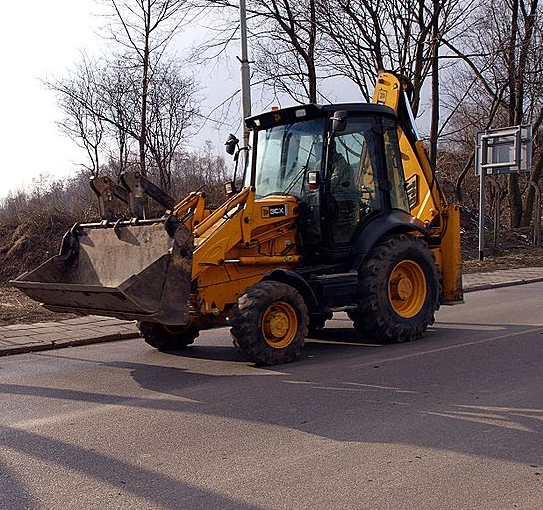 I have a really bad idea for you:
Drive your backhoe loader across the United States. The other day I was talking about driving from New York to LA, so let's go with that distance: 2,777 miles.
This backhoe consumes about 1.1 gallon of diesel fuel per hour minimum. It can travel up to 22 mph.
Diesel fuel costs about $3.00 per gallon right now.
So, here's the math:
2,777 miles/22 mph = 126.2 hours

126.2 hours x 1.1 gallons/hour = 138.8 gallons

138.8 gallons x $3.00/gallon = $416.50
So we have a brutal 10-day journey and a staggering fuel bill! Plus, it's quite difficult to get a good audio experience in a backhoe: they don't have iPod jacks and the NVH is awful.
Fortunately, there is a solution: shipping your backhoe loaders and other heavy equipment with Nationwide!

As you can see from this photo, we are going to load your equipment on a flatbed or other appropriate conveyance and get it where it needs to go!
The entire process is really easy, so please talk to one of our Heavy Equipment Transport Experts today!
Chip Shipt
The Nationwide Auto Transport Blog Team
Top photo by Nemo5576. Bottom photo from the Nationwide website.
No related posts.