Previous posts in series:
You can't ship your Mach 5 to Casa Cristo, but you can ship it with Nationwide across America!
You can't ship your Batmobile to Gotham, but you can ship it with Nationwide across America!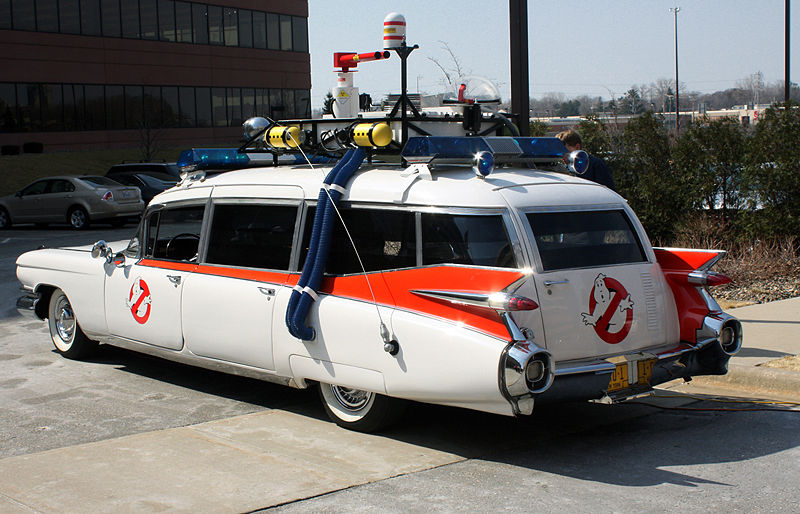 Dr. Ray Stantz converted a 1959 Cadillac Miller-Meteor Futura Duplex Limo-style End Loader into the Ghostbuster Ectomobile! Easily recognized by the red and white paint with the Ghostbusters logo on the door, the Ecto-1 can be heard for blocks around due to the custom siren installed. Wouldn't you like to have that kind of recognition when you're driving down the road?
Decked out in ghostbusting gear, this car is the ultimate chick magnet. Of course the chicks are typically free-floating full-torso vaporous apparitions! That's not a problem, is it?
Girls aren't the only thing the Ectomobile attracts though. It also tends to bring out Zuul the Gatekeeper, Vinz Clortho the Keymaster, Gozer the Gozerian, and a myriad of other specters and spooks! You also have to be careful when choosing the form of the Destructor.
I would suggest the most harmless thing, something you loved from your childhood, something that could never ever possibly destroy you–Mr. Stay Puft! Although when Ray chose the Stay Puft Marshmallow Man, he still managed to do quite a bit of damage. People were crashing their cars at the sight of such a monstrosity! Just imagine towering s'more-making material lumbering down the street toward you and tell me how well your driving skills would hold up to the sheer terror!
To avoid unforeseen accidents caused by the Marshmallow Man, ship your car with Nationwide! Nationwide can ship your Ecto-1 to and from New York City, New York! Then you can get to busting those ghosts, because hey, bustin' makes you feel good!
To learn more, please contact one of our Ghost Catching Vehicle Shipping Experts today!
Chip Shipt
The Nationwide Auto Transport Blog Team
Related posts: