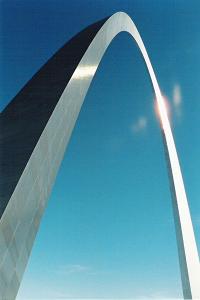 Did you know that Nationwide Auto Transport is based in the St. Louis area? We are! So the Gateway Arch is very dear to our hearts. According to Wikipedia,
The Gateway Arch, or Gateway to the West,[5] is an arch that is the centerpiece of the Jefferson National Expansion Memorial in St. Louis, Missouri. It was built as a monument to the westward expansion of the United States. At 630 feet (192Â m), it is the tallest man-made monument in the United States,[4] Missouri's tallest accessible building, and the largest architectural structure designed as a weighted or flattened catenary arch.[4]
One thing we are sure about is that you can't drive a car up the arch–it's too steep! And slick. To our knowledge–or anybody's–no one has even tried. Here is an interesting article about people flying through the arch and jumping from the arch. Notice that there are no reports of cars driving up the arch.
Here is a cool video showing what it's like inside this masterpiece of the monumental arts:
The important thing to keep in mind in all this is that Nationwide is your best choice for shipping cars to and from St. Louis. In fact, Nationwide is your best choice for transporting automobiles to or from anywhere in Missouri!
For immediate assistance, please contact one of our Car Shipping Experts.
Chip Shipt
The Nationwide Auto Transport Blog Team
Related posts: