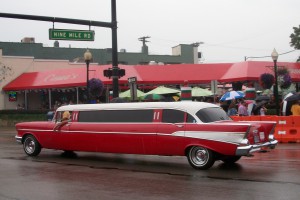 On the 3rd Saturday of August for the past 16 years, a little event in honor of classic cars has been taking place in Michigan. The Woodward Dream Cruise. By little, we are talking about 1 million visitors and 40,000+ cars of all kinds; muscle cars, street rods, hot rods, classics, custom, collector and modified. 2010 marked the event's 16th year. If you missed it, you may want to put it on your calendar for next August.
The Woodward Dream Cruise is a 16 mile cruise along Woodward Ave. in Southeast Michigan, winding through 8 different communities like Bloomfield Hills, Ferndale, Huntington Woods and Royal Oak. This 16 year tradition got its start back in 1995, as a fundraiser for a local soccer field in Ferndale, Michigan. That's when a group of friends got together to recreate the "nostalgic heydays of the 50s and 60s". The first year, 250,000 people participated. The event has only grown since then.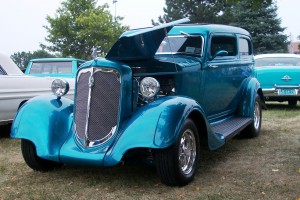 Not only is the Woodward Dream Cruise for the lovers of classic cars. It's an event for the whole family. Most of the communities involved plan things for kids, music, food vendors, contests and more. The Woodward Dream Cruise is a 1 day event that's free to the public. And with it being located just miles north of Detroit, the birth place for many of the cars featured in the cruise, what better way to pay homage to great craftsmanship? With over 40,000 cars, there's so much eye candy for car lovers they're bound to go into an automotive diabetic shock. So mark it on your calendars for 2011, the 3rd Saturday of August. Bring your family, bring your camera and if you have a classic or hot rod out in the garage, then start making plans to bring it along too.
Photos courtesy of the Woodward Dream Cruise 2010 photo gallery
No related posts.