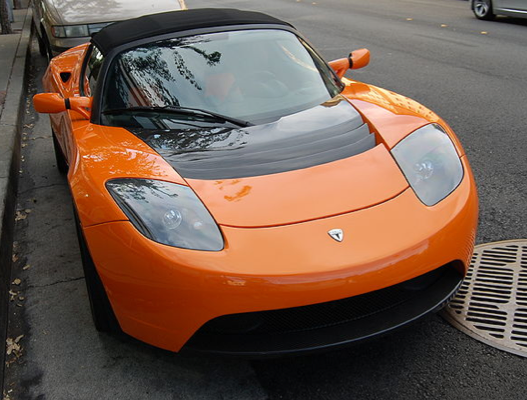 I am fascinated by the Tesla Roadster ultra-high-performance electric car. According to the Tesla website,
The hand-built, carbon fiber Roadster is the only car that delivers supercar performance with zero tailpipe emissions. Powered by a liquid-cooled battery pack, the Roadster delivers 215 kW (288 hp) and 400 Nm of instant torque. It accelerates from 0-100 km [62 mph] in less than four seconds. The Roadster plugs into any conventional electrical socket and can travel over 360 km [224 miles] on a single charge.
You see, the cars of the future are going to be powerful, since electric motors are far superior to the internal combustion engine when it comes to torque. An electric motor can produce maximum torque at extremely low rpm, whereas an internal combustion engine produces higher torque at higher rpm. In fact, an electric car doesn't need gears at all. So it's not just about environmental responsibility–the technology itself is just plain wicked good.
I was driving in my home town of Indianapolis recently and saw a very striking automobile. Very striking. I realized after a few moments of staring that I had just seen my very first Tesla Roadster in real life. I know that the guy behind the wheel was even happier about that than I was, but it was still a thrilling moment!
Pricing for the Roadster 2.5 in the US begins at $101,500 (including a $7,500 tax incentive). But I can dream, right?
If you are the proud owner of a Tesla Roadster, please ship it to or from Indianapolis with Nationwide Auto Transport, since Nationwide Auto Transport is your best choice for shipping any car to or from Indiana!
For more information, please talk to one of our Electric Car Shipping Specialists.
Chip Shipt
The Nationwide Auto Transport Blog Team
Related posts: