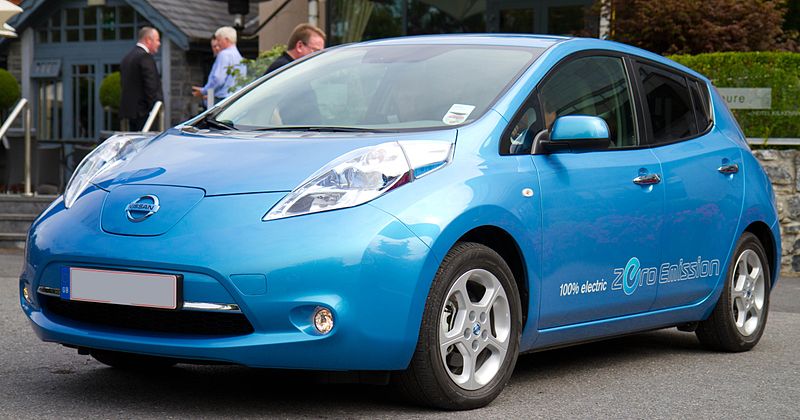 I am fascinated by the new world of hybrids and electromotive vehicles. Recently I wrote a blog post on the Honda CR-Z, the sport hybrid coupe. Today I'm talking about the Nissan Leaf–the 100% electric car that's available right now in certain markets in the US.
First, here is the Nissan website for the Leaf, and here is the Wikipedia article on the Leaf. Apparently the car was launched on schedule a couple weeks ago, and it's currently available in California, Oregon, Arizona, and Tennessee.
This car is the real deal, folks. There's no gas tank, no tailpipe. You plug it in, and that's that! The driving experience is apparently quite similar to that of a regular car. (And yes, it does have special sound effects to warn pedestrians that you're approaching.)
But here's the catch: The Leaf can only drive 100 miles on one charge (somewhat more or less depending on the driving conditions). That's fine if you use it as your daily commuter and don't intend to drive long distances.
But if, say, you had to drive it across the US–2,777 miles–you'd have to charge it about 28 times! And each charge would take 8 hours with a 240 V power supply–and 20 hours with regular 120 V outlet power!
But fear not! Nationwide Auto Transport is here to help! Nationwide can express ship your Nissan Leaf to any destination in the 48 contiguous states. For example, Nationwide can ship your car to Memphis from anywhere in the 48 contiguous states. And Nationwide is your best choice for shipping your car to or from anywhere in Tennessee!
To learn more about shipping your electric car, please talk with one of our EV Transport Specialists!
Chip Shipt
The Nationwide Auto Transport Blog Team
Photo by Tom Rafferty.
Related posts: