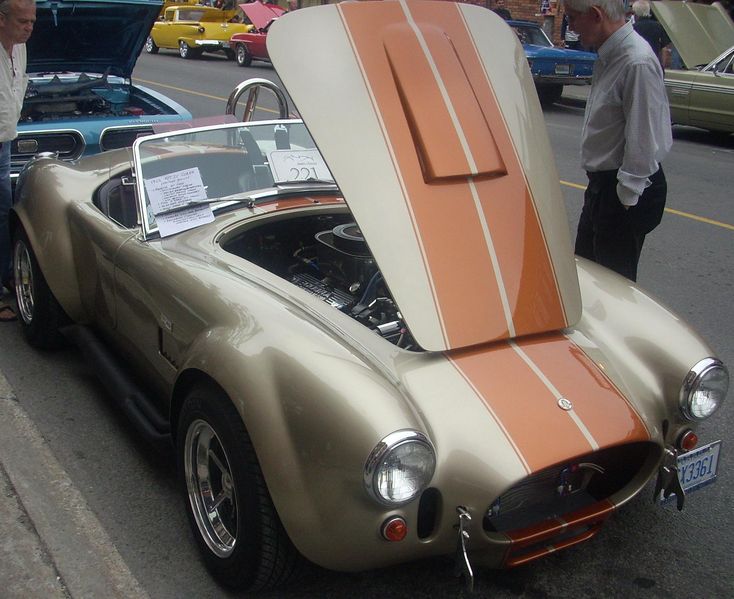 Recently we shipped a 66 Shelby Cobra from Northern California to Southern California. The value of the car was over a million dollars!
The photo you see here is not that particular car but one very close in appearance. Also, neither of the gentleman in the photo is the owner of the car we shipped. But you can tell by the way they are looking at the car that they are amazed by it. Which is understandable, since the Cobra is an amazing classic car!
What makes the Cobra such a prized collector's car today? Of course, there is the rarity factor. Then there is the style factor–it simply has that classic race car look. Finally, it has the cred factor–the Cobra was a touchstone race car of its era. According to Wikipedia,
AC Cobras had an extensive racing career. Shelby wanted it to be a "Corvette-Beater" and at nearly 500 lb (227 kg) less than the Chevrolet Corvette, the lightweight car did just that. The Cobra was perhaps too successful as a performance car and reputedly contributed to the implementation of national speed limits in the United Kingdom. An AC Cobra Coupe was calculated to have done 186 mph (299 km/h) on the M1 motorway in 1964, driven by Jack Sears and Peter Bolton during shakedown tests prior to that year's Le Mans 24h race.
186 mph on a public road–yikes! I myself have never gone over 180. Just kidding!
How does one transport such a beautiful–and mega-valuable–car? With Nationwide, of course. Nationwide's enclosed car transport service gives the ultimate protection to your ultimate vehicle! Nationwide is also your best choice for shipping a car to or from anywhere in California! To learn more, please simply call one of our Auto Transport Specialists today!
Chip Shipt
The Nationwide Auto Transport Blog Team
Photo by Bull-Doser.
No related posts.