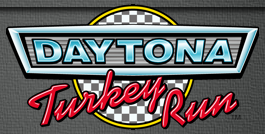 Turkey Run is coming up at the Daytona Speedway–it's a yearly Thanksgiving Event! This year's festival promises to be as exciting as every year's–which is to say pretty darn exciting! So, November 24-28, you've got to head out to the speedway–home of the Daytona 500–and have the time of your life!
People go to Turkey Run mainly for the cool cars! This year, the event is looking for the following types of cars:
Street Rods, Customs, Antiques & Muscle Cars from 1979 and before. All MUSTANGS – CORVETTES – CAMAROS – PROWLERS – VIPERS – CHARGERS/CHALLENGERS, FOREIGN & DOMESTIC EXOTICS
Can't argue with that! People will also be swapping and selling car parts, and this year's raffle is a pristine 1972 Chevy pickup truck!
Did you know that Nationwide is your trustworthy car shipment choice to and from anywhere in Florida? It's a fact! And we are also your experts of choice when it comes to shipping a valuable car with our special Nationwide Auto Transport enclosed shipping procedures.
To ship your classic or exotic automobile to Turkey Run or anywhere in the contiguous 48 states, please contact one of our Auto Transport Specialists today!
Chip Shipt
The Nationwide Auto Transport Blog Team
Image from www.turkeyrun.com.
No related posts.