When you are looking for Auto Transportation, it is important to know all the facts. One of the things you will be asked to do is to sign a bill of lading at pick-up and delivery. A bill of lading is essentially defined as a contract between the shipper (you) and the carrier.
What information is on a bill of lading? A bill of lading contains the names, addresses, and phone numbers for the person on the pick-up and delivery end of each shipment. It also has a picture of the outline of an automobile.  Any damage the car has at the time of shipment will be marked on the bill of lading. At delivery, there will be a final inspection of the car. The driver will mark whether or not any damage has been done during transport. If by chance there has been any damage during transport, it is important to make sure it is marked on the bill of lading. When your car is transported it is fully insured. Therefore, a claim must be filed with the insurance company for any damage. If it is not marked or signed and you later find damage to the vehicle, insurance will not cover the damage.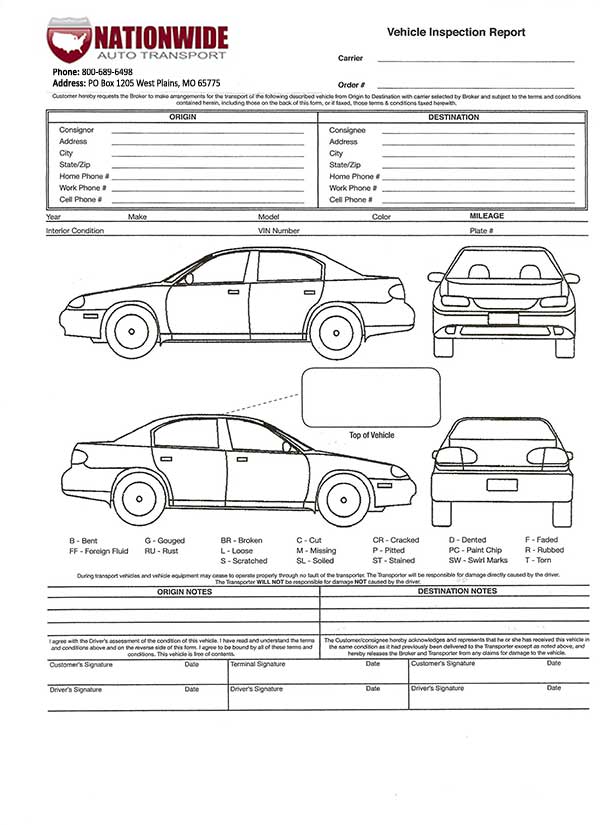 At the bottom of the bill of lading, there will be a line for the shipper and driver to sign at pick-up. A signature will also be required when the car is delivered and the final inspection has been completed.  The bill of lading is an important document; take time and review the information contained on it to make sure everything is correct before you sign.
Related posts: