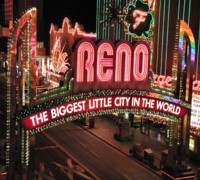 For well over a decade now (plus a few more years), there is one week in August when classic car owners and lovers alike descend upon "The Biggest Little City" the West has to offer – Reno, NV. If you innocently happen to visit the area without prior knowledge of the event that takes place during this week of August, you just might think you hit a time warp and were sent back a handful of decades. Nearly every parking lot and street is filled with classic hot rods, roadsters and cruisin' automobiles that are shined and waxed so they glisten in the lights of the city. Hot August Nights is the car show of all car shows in the West and if you are anyone in the classic car community, then you make plans a year in advance to attend.
Over 800,000 people attend Hot August Nights either by participating in the car show, or many of the other events that take place throughout the week, or they are just one of many spectators who love to indulge in the overwhelming amount of eye candy offered throughout the city during the event.
If you live near Reno, then you notice about 3-4 days before the event the highways and byways start to look like something from the 50′s and 60′s with these spiffed up classics traveling down the road to their destination. Some are driven, some towed behind on trailers, but the most valuable are carried via car shipping companies in enclosed car transport trucks to ensure they arrive safely, in near mint condition.
It's not too late to plan on attending the event. Hot August Nights is planned for August 1st – 8th. There are still some somewhat less than reasonable hotel rates, and maybe one or two reasonable ones up for grabs. On top of getting to see thousands of classic cars on the streets of Reno, there are also other fun events planned for visitors including a sock hop, Silver Car Auction so you can snatch up your own classic for next year's event, concerts, organized cruises, a swap meet and much more. For more details, visit the official Hot August Nights website.
No related posts.