Coastal Corvette is have a big shindig on October 30, 2010, in Savannah, Georgia. Click on the image to visit the Coastal Corvette site.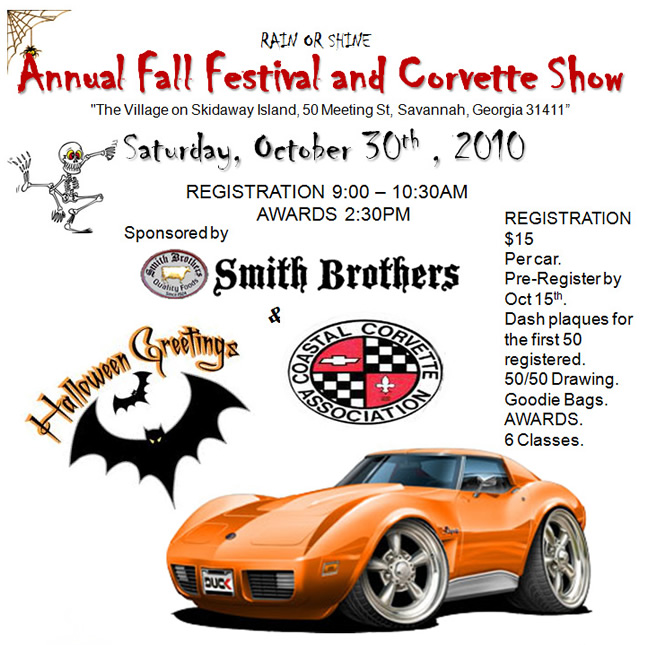 This sounds like a really fun bunch! According to the About page,
The Coastal Corvette Association is a group of Corvette Ethusiasts located in Southeast Georgia and southern South Carolina. Founded on March 31st of 1993, six friends assembled in a parking lot to establish one of the most enjoyable clubs in Savannah. Cars in the club range from the 1950′s up to the most current models and many of our members cars have been featured in numerous shows around the country. Our monthly cruise is normally held on the second Saturday of each month. Members meet at a centralized location, socialize for about half an hour, then cruise to a local/non-local point of interest and of course some sort of food is involved.
At Nationwide, we love 'Vettes. We love shipping them! We understand that they are your "babies" and they deserve the best treatment. That's why Nationwide is your best choice for transporting your Corvette! We have shipped many, many priceless Corvettes with our premium Nationwide enclosed auto transport service.
In fact, Nationwide is your best choice for shipping your car to and from Savannah. And Nationwide is also your best choice for shipping your car to and from anywhere in Georgia! To learn more please contact one of our Car Shipping Specialists today!
Here's hoping the weather is sweet in Savannah on Halloween Eve!
Chip Shipt
The Nationwide Auto Transport Blog Team
No related posts.