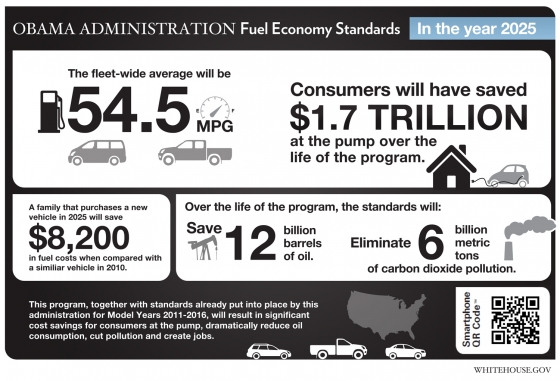 On July 29, President Obama announced that automakers will be required to raise the average fuel economy of their passenger car fleets from a current 30.2 mpg to 54.5 mpg! Wow, right?
First, keep in mind that the figure refers to Corporate Average Fuel Economy (CAFE). So a company can have gas-guzzlers just so long as it has fuel-sipping plug-in hybrids and electric vehicles to even things out.
Also, these changes won't happen overnight. There will be a 5% rise per for passenger cars through the 2017-2025 model years.
To make this all happen, the federal government, California and 13 automobile manufacturers got together and had a nice talk. By way of background, in 2009, federal and state agencies came together on a single national standard for 2012-2016. The California Air Resources Board (CARB) is pretty influential in these matters, since the California automobile market is so big.
What's in it for the car companies? They get a single national standard that's a done deal, so they can more easily plan for the future.
In any case, as you can see from the infographic that comes from the White House Blog, these standards are going to save the country a lot of money.
Keep in mind, however, that Nationwide will ship virtually any car–no questions about fuel economy asked! For more information, please talk to one of our Auto Transport Experts today!
Chip Shipt
The Nationwide Auto Transport Blog Team
Related posts: