Choosing a Car Transporter can seem like an overwhelming task with so many auto transport companies. The great news is that vehicle transport does not have to be time consuming and stressful. Nationwide Auto Transport has a quick and easy process for requesting online car shipping quotes.
Many auto transport companies want clients to sign a contract up front before the client's vehicle has even been shipped. Once agreeing to the contract many customers must then give the company a nonrefundable deposit. At Nationwide, this is not the case.
Nationwide Auto Transport does not require the customers to sign contracts, and if this reliable auto transport company does not move the vehicle, there is no cost. The new and updated online car shipping quote form is quick and easy. Nationwide values their customers' time and money.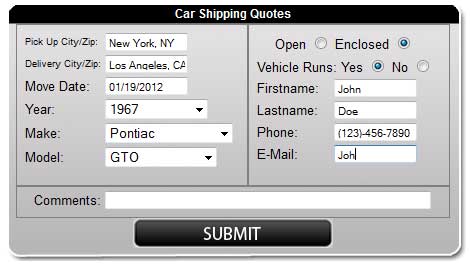 Nationwide Auto Transport also has car transporter specialists standing by to answer any questions and guide clients through the vehicle transport process. Get the process started today by requesting an online car shipping quote or calling a car transporter specialist at 1-800-689-6498.
Chip Shipt
The Nationwide Auto Transport Blog Team
Related posts: